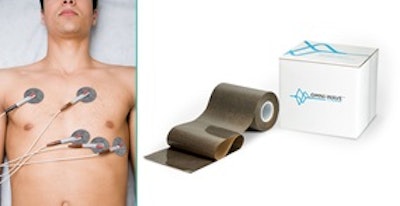 Flexcon has announced the commercialization of Flexcon® Omni-Wave™ signal receptive media components, a biosensing technology that eliminates the need for hydrogel in medical diagnostic and therapeutic wearable devices.
Flexcon® Omni-Wave™ technology uses a skin-friendly, medical-grade conductive adhesive that requires no hydrogel or Ag/AgCl to get a signal. Flexcon® Omni-Wave™ is suitable for diagnostic applications, such as EKG and sEMG, and can distinguish between sympathetic and parasympathetic responses for EDA applications. It is also appropriate for therapeutic applications, such as TENS and NMES, if a secondary repositionable adhesive is used as a part of the electrode design.
Awarded multiple patents, the non-hydrogel "dry" technology combines capacitive with conductive biomedical signal sensing to eliminate crosstalk. Independent clinical studies have shown that the performance of Flexcon® Omni-Wave™ components is equivalent to hydrogel-based diagnostic and therapeutic devices. Furthermore, performance is not affected by humidity, allowing patients to shower, bathe, and exercise normally. Flexcon® Omni-Wave™ technology passes ISO 10993-10 for sensitization and irritation and is AAMI compliant. It is an approved component in customer 510(k) and CE-marked finished good medical devices.
No hydrogel means a reduced chance of skin irritation for patients who are sensitive to hydrogel. In addition, Flexcon® Omni-Wave™ requires no barrier packaging and affords longer out-of-pack life, providing a cost savings to both manufacturers and end users.
"This is a disruptive technology that will enable medical device manufacturers to differentiate their product offering without sacrificing performance while providing an improved experience for patients with hydrogel allergies," says Kelly Johnson, product manager - healthcare, Flexcon. "Elimination of expensive barrier packaging as well as three to six times longer out-of-pack life are added bonuses."

Companies in this article