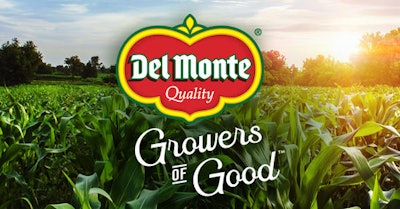 Del Monte Foods has announced its commitment to achieve net-zero emissions by 2050 in line with the Science Based Targets Initiative's (SBTi) Net-Zero Standard. To achieve this goal, the company has also committed to define near-term science-based targets to reduce Scopes 1, 2, and 3 carbon emissions that support SBTi's focus on limiting global temperature rise to 1.5°C.
To achieve its net-zero goal, Del Monte Foods plans to reduce or eliminate the majority of its existing emissions instead of purchasing external carbon credits to offset emissions.
---
---
Del Monte Foods has already made important strides on its path to decarbonization, including:

Streamlining its operations footprint to maximize output and eliminate unnecessary emissions from facilities operating at less than full capacity
Doubling its capital investment in production operations over the past three years to add automation and other technologies for improved efficiency and reduced waste
Investing in renewable energy, including installing a 3MW solar array at its Hanford, Calif., facility
Increasing the use of rail by 20% over the past year, while optimizing truck transportation by increasing average truck miles per gal by 14.3%
As it strives for net-zero emissions, Del Monte Foods will continue to invest in key areas to aggressively reduce carbon emissions in both direct and indirect operations, including renewable energy, automation technology, transportation efficiency, earth-friendly packaging innovation, and regenerative agricultural practices in partnership with its network of U.S.-based, multi-generational growers.
Del Monte Foods also will develop specific 2030 emissions reduction targets aligned with SBTi criteria, which will be presented to SBTi for official validation. Once validated, Del Monte Foods will publicly announce these targets, as well as report company-wide emissions and progress against these targets each year.
Companies in this article