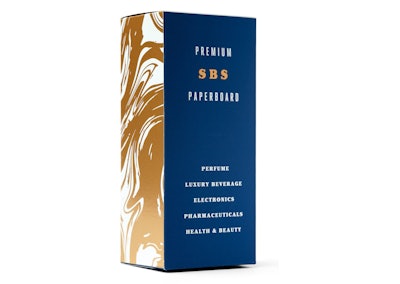 When consumers are putting down money for luxury liquors or cosmetics, even the smallest of details make a difference in brand perception. At PACK EXPO Las Vegas, Sappi North America was showing off a new grade of paperboard packaging aimed at such high-end markets, demonstrating the refined look of a new liquor bottle packaging sample.
Printed on a high-brightness coated two-side sheet—including copper foil on the outside of the package and a high-quality image on the inside—the sample in Sappi's PACK EXPO booth showed off the latest capabilities in the company's Spectro paperboard packing line. Spectro C2S draws on Sappi's experience with coating technologies to create a high-end experience for luxury beverage, perfume, electronics, pharmaceutical, and health and beauty products.
Specto C2S provides a proprietary coating engineered to deliver a smooth and uniform surface for brilliant color reproduction, sharper details and better ink holdout. Its strength and durability provide optimum convertibility for folding, die-cutting, gluing and other converting applications. Enhanced optics include high brightness and a coating formulation that offers fade resistance.
The improved paper quality comes in part as the result of the rebuild of Paper Machine 1 that Sappi completed last year at its Somerset Mill in Skowhegan, Maine, noted Michael Browne, brand manager for Sappi. The new state-of-the-art equipment allows the company to create the higher-end surface quality of Spectro C2S.
As a side note, Browne also mentioned the sustainability of the operations at the Somerset Mill, which uses a high level of renewable energy and has one of the lowest carbon footprints in packaging, enabling the company to create a more sustainable product.
Companies in this article