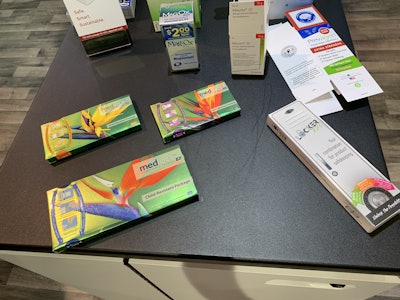 At Healthcare Packaging EXPO, Colbert Packaging Corporation displayed its new Locker 420, a senior-friendly paperboard packaging system for an array of cannabis products including flower, capsules and edibles.
The system, currently undergoing child-resistance testing, protects products with a two-step locking mechanism with an area for pressing down and a tab for easy pulling. The design is production-friendly for ease of implementation, and is customizable for a variety of carton sizes. Cold foil graphics are also available to add metallic decoration for shelf appeal.
Water-based ink and adhesive option
The carton is available in Colbert's "Clean Carton" formula, featuring water-based inks, coatings and adhesives that meet environmental and safety standards safe for indirect contact with products. Low migration, no heavy metals and volatile compounds; Constructed from Solid Bleached Sulfate (SBS) paper, there are no heavy metals or volatile compounds, and Clean Carton provides for performance on the press, resulting in less waste and lower consumption of raw materials and ink.
Protected blister card
The Locker 420 joins Cobert's MedLock EZ™, a child-resistant, senior-friendly, and sustainable unit-dose alternative to amber prescription vials. The system has tested to to F=1 for child-resistant and senior-friendly effectiveness and consists of an outer paperboard shell that houses a pill blister card locked into place with an integrated, patent-pending locking mechanism.
The user disengages the lock by squeezing and holding touch points at one end of the paperboard shell while sliding the blister card out through the other end. Once the blister card is exposed, medication can be pressed through one of the individual blisters. Sliding the blister card back into the outer shell reengages the lock.
Companies in this article