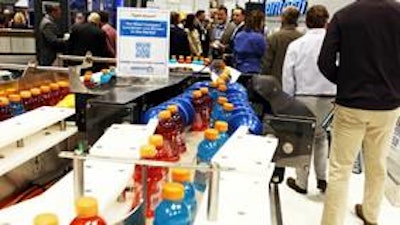 Morrison Container Handling Solutions showcased some of its newest solutions during PACK EXPO Las Vegas. The company comes off a successful year where it created the most custom solutions it ever has.
"These are exciting times for Morrison and the packaging industry as a whole," says CEO Nancy Wilson. "Technology is taking all of us to new places and challenging us to think differently every day."
Featured products at PACK EXPO include the Morrison Auto Adjust Rails, Smart Combiner and Divider System, Servo Infeed, Quick Delivery CDA Tree, Rapid Change Parts, and the Model 60 Can Opener.
Smart Combiner & Divider System
This custom drive assembly joins multiple lanes of product into one single flowing lane is easy to changeover, takes little line space, and can mount to existing conveyors, according to Morrison. The photoeyes sort based on color, understanding the direction each container must go in order to create the correct multi-pack, communicating that to the servo motor. The system can register up to three different containers, so users have a variety of options for multi-packs.
Using vision systems for sorting, manufacturers have control over containers each step of the way, ensuring the system performs the same way every time to provide greater reliability than robotic systems.
Morrison Auto Adjust Rails
With two styles, the rails come within 1mm of accuracy for individual bottles and 5mm of accuracy for case handling. Additionally, the hassle of supplying constant air pressure disappears, because with this system, users only supply air pressure to create the needed positioning. The HMI will hold the set position, no need for operators to walk the line for repositioning.
Morrison Auto Adjust Rails reduce downtime so companies can increase line efficiency, Morrison claims. With a few clicks of a button, operators can changeover to a new product and maintain accuracy with positive control of products for up to 43 different SKUs.
Model 60 Can Opener
An all-in-one process, Morrison's can opening systems standardize the canning procedure and increase ROI. Infeed timing screws allow manufacturers to process cans up to 60 cpm while reducing labor demands and creating positive control. The stainless-steel systems are wash-down friendly and provide complete processing functionality in a single station. It's complete with an optional system that can be built in to catch excess metal and crush cans for recycling, eliminating the need for additional labor and space.
Rapid Change Parts + Quick Delivery Cda
Morrison ships standard single metering drive systems within two weeks of receiving the purchase order and all engineering information. They want to give manufacturers fast delivery, robust design, and spare parts to get their lines running efficiently, as quickly as possible. Additionally, Morrison provides star wheels and guides for rotary packaging machines. With the use of a computerized measuring arm, Morrison can reengineer change parts for any machine, whether they originally designed it or not, according to the company.
Servo Controlled Infeed
Servo controlled infeed allows intermittent feed of containers smoothly reestablishing prime up to 600 cpm. When backlog is low, the screw stops. Start at speeds up to 600 cpm can stop containers up to 2000 cpm, reducing container damage while increasing production up time, with no need to stop the machine to reestablish feed. Quick changeover designs are also available.
Companies in this article
Videos from Morrison Container Handling Solutions