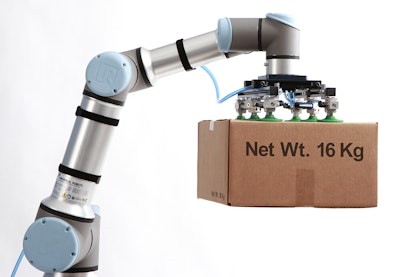 Universal Robots (UR) has been leading the way in collaborative robots (cobots), pushing their products into the market where they perceived a need. For the first time in its innovation cycle, it has turned to its customers to find out what their pain points were and what they needed next in the robotics space. The answer: payload.
The latest version of UR's e-Series cobots has a payload capability of 16 kg (35 lb), the highest payload the company has released to date. It's making its North American debut at PACK EXPO Las Vegas this week, including an application demo.
"The 3, 5, and 10 [kg] payload products were really product-driven, i.e., as a first market entrant, we kind of pushed the product into the market; we saw this requirement out there," says Jürgen von Hollen, UR's president. "What's different about the 16e is the fact that we actually did a lot of communication with customers and end-users to understand what was their true requirement, what were their specifications, what were they missing."
There's always a battle between reach and payload, von Hollen says, but customers made it clear that the payload was what they needed. "We found out that payload was the real driver for many, many customers because it turned out to be one of the barriers to opening up the market for collaborative," he says. In fact, some customers commented that they were looking at the 10 kg product not because of its long 1,300 mm reach but because of its payload, he adds.
Starting its innovation from an application perspective, UR focused on the optimal payload to open up new markets. Along with the higher payload, the UR16e has a reach of 900 mm and pose repeatability of ±0.05 mm, making it well suited for four major markets: packaging and palletizing, heavy machine tending, screw and nut driving, and heavy material handling.
"Those four markets alone have a potential to deliver a billion dollars in revenue," von Hollen says. "They're sizeable markets, all of them growing, in some instances expected to grow at over 50%."
The launch of the UR16e significantly expands the versatility of UR's product portfolio, von Hollen notes, giving manufacturers more flexibility. "At the larger customer base, they were looking at UR and saying, 'Look, if you don't have a broader portfolio, you're missing things that you could be doing in our factories, in our production environment,'" von Hollen says. "So having a full product portfolio really makes it very comfortable for large customers to say, 'OK, we know with one supplier we can cover all our requirements from a collaborative perspective.'"
For some customers—particularly in high-density areas like Singapore—space is a major consideration for opting for a cobot like the UR16e that can handle a heavier payload vs. traditional robots or automated machinery, von Hollen says. "In other areas, it is labor. And that's becoming more and more what we see as being the biggest bottleneck or pain point for many customers is the fact that they just can't find labor," he says. "I think we're just at the beginning of this phase of labor shortage. And it's not just in the Western world. It's everywhere, whether you go to Mexico, to China, to India. It's always one of the major factors is labor."
As with the other cobots in the e-Series, the UR16e includes built-in force sensing; 17 configurable safety functions, including customizable stopping time and stopping distance; and an intuitive programming flow. Like all of UR's cobots, the UR16e can be unpacked, mounted and programmed to perform a task in less than an hour. The UR16e meets the most demanding compliance regulations and safety standards for unobstructed human-robot collaboration, including EN ISO 13849-1, PLd, Category 3, and full EN ISO 10218-1.
Companies in this article