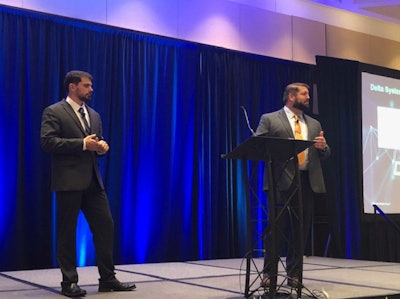 It takes a series of adaptations to accommodate an ever-evolving environment. During the Automation World Conference & Expo earlier this month, where Industry 4.0 was a prominent theme, two technology experts from Delta Systems & Automation provided insight into how the company progressed on its 4.0 journey year after year.
Delta Systems, part of Ilapak Group, is a manufacturer of build-to-order integrated packaging systems. Over the years, the company was faced with the challenge of how to embrace Industry 4.0 technologies, like the Internet of Things (IoT) without adding layer upon layer of complexity.

"With Industry 4.0, there are too many communication protocols that we need to be engaged in," said Brian Kyles, Delta Systems' technical director, noting they could have an intelligent system with over 200 axis of motion, several PLCs and a dozen safety PLCs, plus over 20 unique devices all communicating across three different protocols using real-time Ethernet. "We needed someone to work with to keep us on the front end of this incoming industry push. We didn't want to be the guys catching up. We wanted to be the guys pushing ahead."

So, in 2015, they enlisted the help of Schneider Electric, moving their proprietary SoftFlow PC software—used to control an entire machine—with integrated HMI, onto Schneider Electric's PacDrive 3, a centralized system architecture for controlling a broad range of servo-driven production and packaging machines.

PacDrive3 is a scalable automation platform. It is a single controller solution for motion, PLC logic and communication with an open system approach to supporting multiple fieldbus protocols.
So, adding I/O to a distributed network is not a complex thing. "Every time we need more intelligence in there, we just add it," said Daniel Harr, operations director at Delta Systems. "The more intelligence added into the machine, the better it can interact in the environment."

It also has integrated safety, which is a priority for operator interactions. And, part of the partnership with Schneider Electric also entails the use of robotics, which, traditionally relies on a separate controller, but the advantage of the new platform is that robotics can be rolled in.

Of course, with all new technology, there is a learning curve for the end users. But Delta Systems uses Schneider Electrics EcoStruxure Augmented Operator Advisor. Using a tablet or smartphone, the operator can freeze an image of the machine and then pull up documentation for equipment components as all of the documentation and videos are stored in the HMI library. Users can follow step-by-step procedures, watch a video, and even open machine doors virtually.
It runs locally, is all WiFi-based and meets the challenges of the operators on the plant floor. "The biggest problem for us today is not having the information, but getting access to it," Harr said.

Augmented reality, interactive file storage and a data accessing system are the next steps for smart machines and the elimination of downtime, as is the ability to monitor and fix machines remotely, which Delta Systems can do, too, using Schneider Electric's EcoStruxure Machine Advisor, a connected platform that allows OEMs to remotely manage machines that are on-premise at the customer site.

Click here for more details on the framework and functionality that Schneider Electric Machine Advisor provides.

"We push out machines that run at high OEE, but we all know at some point a machine will have a fault and someone has to interact with it," Kyles said. "What is causing a fault or downtime on a machine has a lot to do with the person understanding how to fix and recover the machine. Information takes time and time is money, so if someone is able to interact with the machine and give [the operator] relevant information when they need it, it's not changing the mechanics of the machine, but how the operator interacts with us." And, it drives ROI, he said.

Leveraging EcoStruxure, Delta Systems is no longer limiting the intelligence that can be added to its machines. And, they have the flexibility to anticipate customer needs. "We have the foundation so that when a complex system inquiry comes up, it's not a huge investment, we just roll it out," said Harr.

And, added Kyles, the company will "continue to push the expectations of what automation is." – Stephanie Neil, Senior Editor, Automation World
Companies in this article