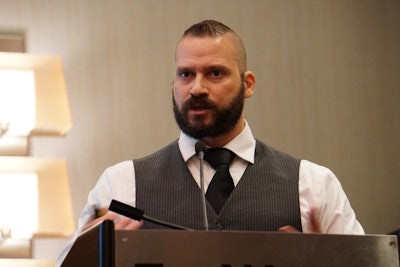 "Interactive packaging is not a fad, it's a trend." That's according to Frederic Clulow, Sales Director – USA & Latin America, for Kezzler, who shared with attendees at the Active & Intelligent Packaging Summit Americas the results of a study of interactive packaging over the span of four years, from 2016-2019.
Among the insights:
Interactive packaging has a Year-Over-Year growth rate of 120%. Said Clulow, of course, this is not sustainable, but it does prove that those brand owners who stay on the fence regarding the use of this technology will be left behind by their competitors.
Since 2016, consumer engagement has increased from 1% to 8% in 2019. (In 2017, the engagement rate was 2%, and in 2018, it was 6%.)
The degree of consumer engagement with interactive packaging varies, depending on the product category. The likelihood of engagement for a healthcare and wellness product is 3.3-times greater than for a durable good, while the likelihood of engagement with a consumer packaged goods product is 5.1-times greater than for a healthcare and wellness product.
Consumer engagement also varies depending on the driver of the technology. When the brand owner uses it only for authentication purposes, engagement is at less than 1% (which, said Clulow, is still of value for those high-value items plagued with counterfeiting/diversion). When the technology provides the consumer with detailed product information, engagement rises to 3%. If loyalty and rewards are provided through the interactive packaging, engagement is at 7%, and when financial incentives are added, that number increases to 16%. Said Clulow, "We have seen a customer with engagement rates of 88 percent when a financial incentive was added. While that's clearly an outlier, it shows how giving the consumer buy-in increases engagement."
In terms of the ways in which consumers are engaging with the technology in the U.S., the very early process of keying in a code from a package (SMS) is minimal—6%. Dedicated apps, which once were very popular but now have become the victim of what Clulow called "appollution," are used in only 27% of cases. The majority of engagement is through mobile web technology, at 67%. Advised Clulow, it's all about reducing friction for the consumer.
If a brand owner that is using interactive packaging fails to include a call to action on the package for the consumer, the engagement rate is 0.1%. When a call to action is added, that rate jumps to 3%.
Companies in this article