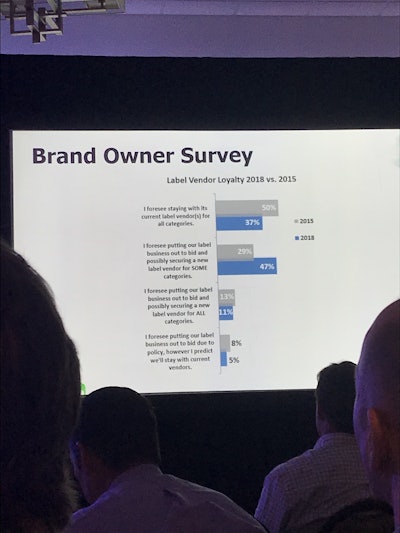 Dan Muenzer, president of TLMI (the tag and label printers' association), described a changing converting and label-making landscape last week at Domino Digital Printing's annual two-day event, Spectrum 2019, held in Gurnee, IL. There, Domino hosted a swath of converters and label makers from around the country to learn from 25 presenters and 40 suppliers at table-top stations.
Growth anticipated across market segments
Label procurement volumes are expected to continue on their existing growth path, with 4.1 % growth across all segments, a continuation of last year's estimated 4 to 4.5% growth.
Chemical: 5.2%
Beverage: 4.5%
HABA/Personal Care: 4.3%
Pharmaceutical: 3.8%
Food 3.8%
Consumer durables: 3.6%
Muenzer added that TLMI members averaged better than 6% growth across segments, with some segments well above that figure.
The changing landscape
Currently, almost 85% of all label makers are small companies of $1-$10 million. These are smaller shops that specialize in a region, a technology, or an industry. Meanwhile, there are a comparative few that are in the greater than $50-million-dollar revenue range—large for a label maker, but not so large in the context of big business.
"Look for continued stratification," Muenzer says. "The large are getting larger, the small continue to proliferate, with little left in between."
Also important, and perhaps related, brands' loyalty to label-making vendors is waning. TLMI surveyed brand owners to compare label vendor loyalty among brand owners between 2015 and 2018, revealing the biggest shifts. In 2015, 50% of brand owners foresaw staying with current label vendors for all categories, compared to only 37% in 2018. In 2015, only 29% of brand owners anticipated putting their labeling supply needs out to bid [for at least SOME categories], a number that grew to 47% in 2018.
"At the end of the day, like it or not, the loyalty that our industry had with our customers is eroding," Muenzer said. "We are no longer just a niche, regional relationship business. Does that existing relationship matter? Absolutely, but it's no longer the sole determiner of if you'll win the business."
In fact, the survey asked brand owners directly about their regional sourcing preference (as defined by a preference for vendors within 250 miles). In 2015, 27% reported that preference, in 2018, only 5% responded as such.
"What does that say? It says that the buyers of labels are going national. And in some cases they're going international. There is more consolidation at the top with large, national sized label maerks that can compete in regional markets," Muenzer said. "You can't rely on your local customers to buy from you just because you're 10 miles down the road. Those days are over."
General snapshot
The total print industry, including direct mail, signage, car parts, labels, packaging, and everything else, is estimated at approximately $140 billion. Labeling specifically is about 10% of that, at $13.6 billion in North America, with the U.S. representing between 80-85% of that revenue. There are between 2,000 and 2,500 label making companies in North America, with $1 million in revenue being the minimum barrier for inclusion. While more specific numbers are harder to come buy Muenzer was able to provide a representative snapshot of his TLMI membership as a stand in for the actual total numbers, to color how the industry actually breaks down.
 
"The label industry is rocking," Muenzer said. "Within TLMI, which is representative of the industry, 81% of the business is pressure sensitive, with 90% being some type of label, with more and more of our members getting into narrow web flexible packaging and some expansion in folding carton. But the reality is there's not a label maker out there that isn't looking at complementary technologies."
Muenzer added the caveat that shrink sleeve label printers are underrepresented within TLMI; only about 4% of membership are shrink sleeve label printers whereas within the greater North American market, they make up closer to 10% of all label making.
In terms of end-user segments, 58% of the market is in food or beverage, but Muenzer argued that's where the margins for label makers were most slim. "That's the majority of the labels," he said, "But the majority of the profit is in the other 42%. When you start talking about specialty products, medical devices, functional labels and that type of thing, there's just a tremendous amount of opportunity in the more niche segments."
Companies in this article