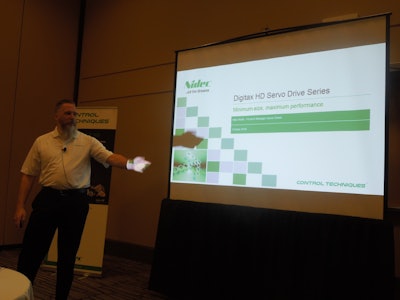 Digitax HD aims to extend the Unidrive M range and is optimized for high-dynamic applications, providing flexibility for both standalone and modular configurations. The drive varieties offer servo control plus open-loop permanent magnet motor and induction motor control across the following four functionality levels: EtherCAT, MCi machine control, Ethernet and the flexible Base drive.
A presentation introducing Digitax HD was made by Mike Wolfe, Product Manager, Motion Control, Control Techniques, within Nidec Industrial Automation USA, LLC. Wolfe followed a corporate introduction by Alex Harvey, the company's Marketing Director, Americas.
Asked about applications of the company's existing controls products—such as drives and motors—in packaging applications, Nidec executives noted that they are commonly used in conveyor systems, labeling equipment and on stretch wrapping machinery, mentioning Lantech. Nidec explained that their control systems are used in brewing, dispensing and pharmaceutical applications, including one involving vials for Baxter.
Companies in this article