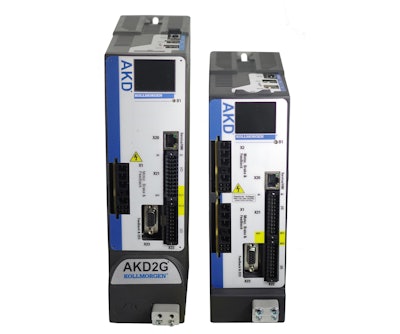 Kollmorgen came to PACK EXPO International ready to demo its new motion technology, the new AKD®2G servo drive and AKM®2G servomotor system solution—hygienic motor solutions for packaging applications and state-of-the-art robotics.
According to Kollmorgen, the dual-axis AKD2G (pictured) is one of the most power-dense industrial servo drives on the market. It substantially reduces mains wiring, fuses, and filtering to save panel space and cost. Highlights include plug-and-play compatibility to Kollmorgen motors and Workbench interface, an optimized hybrid connector, and speed—said the company, its multicore Compute Engine, Servo on a Chip, is more powerful than other servo drives. The AKD2G's current loop update rate of 1.28µs accommodates changing load conditions immediately. Kollmorgen also noted that velocity and position loops updates are also market leading at 62.5µs and 125µs.
The AKM2G servomotor is configurable, synchronous servomotor with increased power density and improved torque/speed ratio so OEMs can get up to 30% more performance out of an equivalent size motor or achieve the same performance with a smaller motor. With six frame sizes with up to five stack lengths and performance rates 0.3 and 10kW, as well as selectable options such as feedback, mounting, and performance capabilities, the AMK2G can easily be dropped into existing designs.
Companies in this article