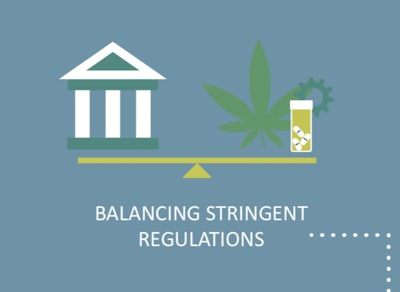 As Healthcare Packaging recently reported, cannabis product manufacturers are in a precarious spot. Packaging regulations are changing rapidly—including new rules that say packaging cannot resemble that used for foods—but regulators typically do not pre-approve designs, meaning manufacturers run the risk of getting product pulled from shelves due to packaging.
Because the laws are not always clear, an incorrect packaging or labeling choice can lead to significant product waste and redesign costs.
To help address this gap, San Diego-based Hippo Premium Packaging has hired an attorney to offer complimentary cannabis packaging compliance services to its clients. The services are not considered legal counsel but intended to help companies navigate the myriad of state and local regulations.
It's a struggle for design and branding firms nationwide in states with legal medical or recreational marijuana programs. An Aug. 27 Forbes article, "Cannabis Marketers Try To Crack The Compliance Code," highlighted the issue.
"We as a creative marketing agency end up feeling like we're operating more as a compliance agency at times," said Dustin Iannotti, Co-founder and Creative Director of Artisans on Fire, a Las Vegas-based "cannabis-centric" marketing agency.
Looking to the future, some industry experts interviewed in theForbesarticle were optimistic that regulations will relax.
Marion Mariathasan, CEO of Simplifya, a cannabis compliance software firm headquartered in Denver, weighed in. "As support for legalization grows and laws continue to change around the country, marketing restrictions will likely loosen because more people will see them as patently unfair, especially when compared to similar adult products like alcohol."