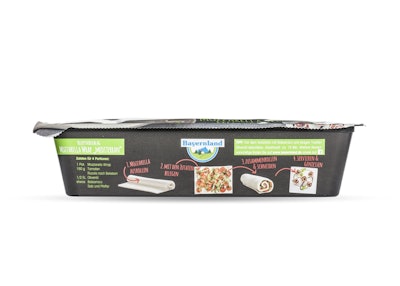 A new twist on a classic favorite, German cheesemaker Bayernland's new Mozzarella Wrap has been on the market in Germany since the beginning of the year and has been bringing an exciting change of pace to the dairy aisle. The thin, rolled-out sheet of mozzarella can be filled as desired, rolled up, and served in slices. It's also well-suited for baked pasta dishes or casseroles.
The package format is that of a plastic tub that is long and narrow, offering plenty of space for the rolled-up mozzarella sheet. Black was selected as the color–a deliberate choice that's striking and unusual in the dairy section.
The polypropylene tub from Greiner Packaging was injection molded and uses in-mold labeling for the messaging. The label can be printed with up to 8 colors. The capacity ois 130 g of cheese.
The packaging itself is made of PP, black and is sealed with a plastic plate.
Companies in this article