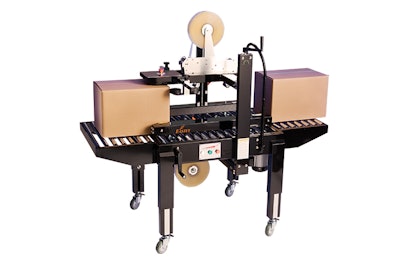 Eastey Enterprises, a manufacturer of case tapers, L-sealers, sleeve wrappers, shrink tunnels and bundling equipment, introduced the SB-2 EX side belt case taper during last week's PACK EXPO. The SB-2 EX is an affordable solution for uniform sealing of a wide standard case range, from light or heavy weight, narrow or small boxes.
Dual ¼-hp drive motors, aggressive industrial strength drive belts, and roller tables make the SB-2 EX a workhorse that will stand up to end users' toughest challenges. Each case taping machine is made from 12-gauge steel that will withstand even the most rugged applications, according to the company. A powder coated exterior protects the machine from abusive conditions and guarantees years of use. Plus all, the SB-2EX is CE certified, so users can be confident it will consistently provide reliable, high-quality case sealing.
The SB-2EX offers fast and easy case changes with adjustable side rails and flexibility for boxes 5" long and greater. Adjustments can be made on the fly with easy hand tighten knobs and cranks which can be attached to either side of the machine. SB-2EX utilizes easy to load top and bottom tape cartridges and will seal boxes as narrow as 4.5" wide and as low as 4.5" tall.
SB-2EX is designed and built with the customer in mind. Top and bottom tape cartridges are interchangeable and designed for easy tape threading. These machines accept 2" wide pressure-sensitive tape as a standard, or can be converted in the field with 3" tape heads for wider case taping applications. Operators can learn to use Eastey's SB-2EX case taping machine in minutes, avoiding breaks in production and downtime, saving your company money and increasing end users' ROI.
Companies in this article