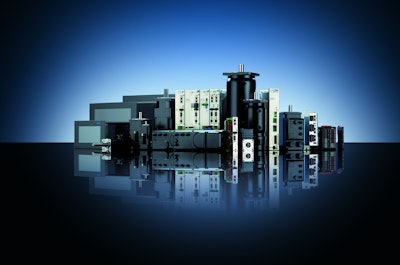 AMK Automation is showcasing its AMKASMART™ flexible machine automation technology at its booth, C-3702. A working demonstration of a multi-axes machine controlled by a single controller—without a cabinet—illustrates the possibilities involved with decentralized automation. While decentralized automation isn't necessarily new, AMK's new approach and product family provides machine builders with more flexibility, and problem-solving ability, using combinations of both de-centralized and centralized control design.
"With the AMKASMART drive system we've taken what is typically a complex and costly product design and have simplified it, combining the power and motor requirements into one powerful decentralized machine controller that can support the most demanding machine designs," said Tom Jensen, General Manager and Technology Evangelist.
According to the company, the AMKASMART decentralized drive technology provides true modularity for machine construction with limitless machine power and the ability to eliminate costly control cabinets. The AMKASMART product family includes a variety of servo controllers, such as the compact iX servo controller, the iC servo converter consisting of a servo controller with integrated power supply module, and the iDT "all-inclusive model" in which the servo controller is installed directly on the motor.