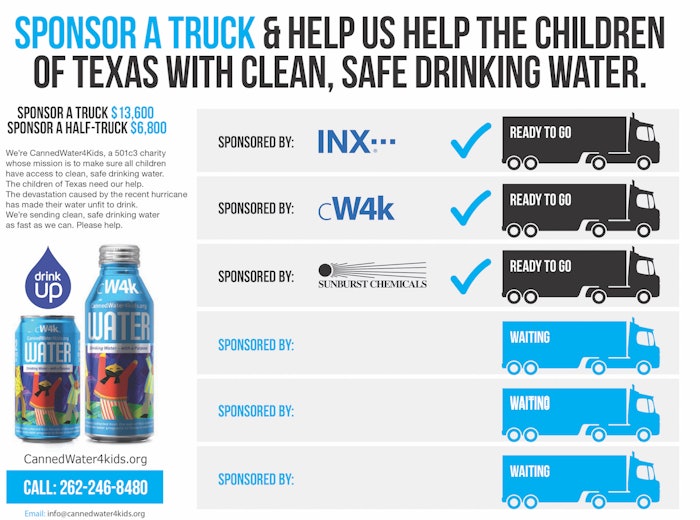 On Sept. 7, CannedWater4Kids, a 501(c)(3) charity, and ink supplier INX International Ink. Co. announced that they teamed up to rush delivery of drinking water to help in Hurricane Harvey disaster relief efforts, sending a truckload of 52,800, 12-oz cans of fresh, purified water to a Red Cross distribution center near Houston.
"This is the first of many truckloads we hope to send," says Greg Stromberg, CEO of CannedWater4Kids. "It was the right thing to do because clean, safe drinking water is a valuable resource. Coordinating and financing the water delivery was a team effort. We couldn't have done it without the help of INX International and the Red Cross organization. Their help and support was incredible."
Renee Schouten, Director of Marketing for INX, adds, "It is important to be there for people, in good times and in bad. Providing clean water to communities enduring a crisis will aid in recovery and hopefully give some sense of comfort to those in need."
Meanwhile, FDA offered tips (and a video) on food and water safety during power outages and floods. These included steps on how to save undamaged food packages (in all-metal cans and retort pouches) exposed to flood water. The agency recommended removing labels that can harbor dirt and bacteria, then re-label those cans or retort pouches, including the expiration date (if available), with a permanent marking pen.
Sanitizing cans and retort pouches by immersion can be done in one of the two ways: Place in water and allow the water to come to a boil, then continue boiling for two minutes. Place in a freshly made solution consisting of one tablespoon of unscented liquid chlorine bleach/gal of drinking water (or the cleanest, clearest water available) for 15 min.
Companies in this article