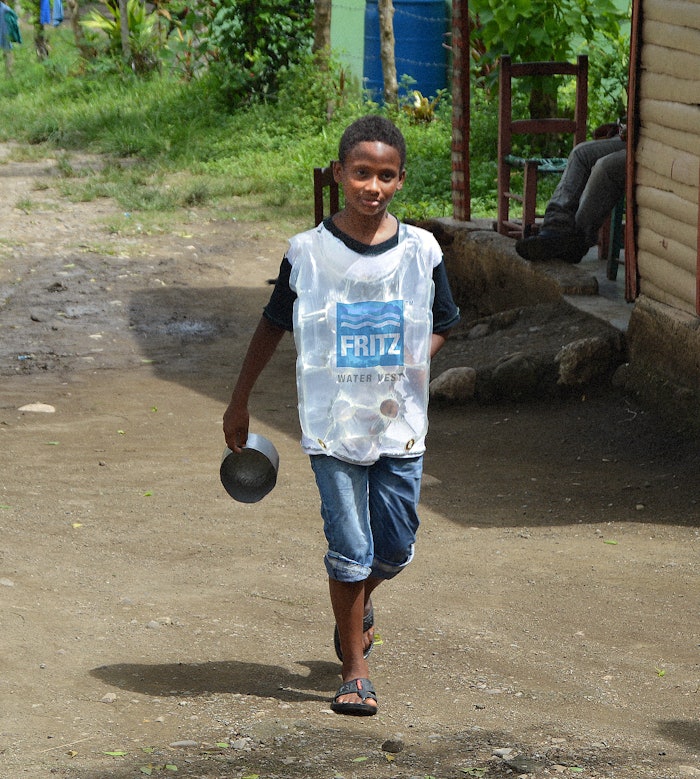 Judges felt this is an out-of-the-box solution for a significant global problem and was designed with an overwhelming sense of the greater good. The vest is antimicrobial, ergonomic, and reusable.
Solutions, Inc. is the winner of the award. This simple but appropriate packaging solution addresses water-transport issues in developing countries. In remote areas, accessing drinkable water requires people--most often women and children--to spend many hours a day carrying heavy, unhygienic, and non ergonomic containers on their heads and shoulders. This causes significant physical stress on their bodies over time and presents serious risk of water contamination. The Fritz Water Vest is an innovative application of modern packaging technology that solves water-access problems for at-risk populations.
The vest incorporates relatively new materials to accomplish two key functional needs. The multi-layer nylon structure provides a robust material suitable for rough terrain and multiple uses in dry and rugged environments. The proprietary lamination uses several layers for functional ptorection and allows for quick heat sealing during manufacturing. In addition, an additive included in the material inhibits the growth of mold, mildew, and odors. Together these properties provide a robust, hygienic, and reusable water-carrying and storage pouch.
"The DuPont Awards for Packaging Innovation demonstrate how creative, committed, and agile the packaging industry is in addressing global issues and consumer needs," said Bernard Rioux, global packaging leader, DuPont Performance Materials. "This year's winners included solutions for novel food storage, fermenting food products, premium beauty products, new packaging materials to target millennials, and more. This competition brings out the very best of everyone in the packaging industry, and we are thrilled to see innovators raising the bar each year."
Now in its 29th year, the DuPont Awards for Packaging Innovation is the industry's longest running, global, independently judged celebration of innovation and collaboration throughout the value chain, and it's recognized globally as the leading awards program in the sector. The international competition honors innovations in packaging design, materials, technology, and processes. An independent panel of packaging experts evaluated nearly 150 entries from 24 countries and recognized those that excel in the categories of technological advancement, responsible packaging, and enhanced user experience. In addition to the award noted above, the judges awarded five diamond finalist award winners, nine gold winners, and six silver winners based on "excellence" in one, two, or three categories.
Companies in this article