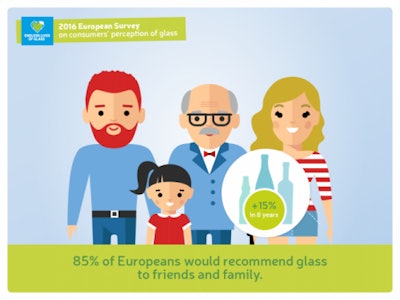 Growing concern for the environment, combined with consumer preference for healthy living, is driving increased trust in glass as the ultimate packaging choice for food and drinks. That's according to a Europe-wide independent survey, commissioned by the Friends of Glass community, which indicated 85% of Europeans would recommend glass to their friends and family. This marks a 15% increase since 2009.
Almost 18,000 European consumers in 11 countries across the region were surveyed, with the findings revealing that 76% of Europeans see glass as the most environmentally friendly packaging material—a 50% increase since 2008.
While glass is regarded as one of the most sustainable and eco-friendly forms of packaging, more education on its benefits is needed, says the Friends of Glass. There are still many Europeans who are not fully aware of the full range of benefits glass offers to the environment and sustainable living; in fact, glass is 100% infinitely recyclable, yet a majority of Europeans believe that it is only 84% recyclable. Only 49% of them believe that glass waste is not harmful to the environment. While this marks an increase from three years ago (at the time this was 40%), there is an awareness gap.
Commenting on behalf of the Friends of Glass Community, Adeline Farrelly - Secretary General of FEVE, the European Container Glass Federation, states, "It is encouraging to see that consumers have become more conscious of the positive sustainable benefits of glass packaging. Whilst these results are reassuring, as an industry, we cannot be complacent, and we remain committed in our focus to inform consumers about the unique sustainable and recycling properties of glass.
"No matter how many times it is recycled, the permanent nature of glass means that its quality never diminishes—glass remains glass. Nowadays, Europeans can actively contribute to achieve a 100-percent recycling rate by bringing their used glass bottles and jars to the nearest bottle bank. Glass can be infinitely recycled as part of a positive circular economy and within a closed loop."
Living sustainably is not just about saving the planet; it is also about looking after your health, notes the study. Indeed, Europeans associate glass packaging with numerous health benefits. Consumers believe glass has the lowest risk of interaction with food (14%). Because of its inert properties, glass provides a natural protective barrier, which ensures the product contents do not change over time. Among those who opt for glass, 53% believe glass is the safest food packaging material, while 73% consider glass to be the safest drink packaging material.
A generation gap?
This latest research highlights that older generations are better informed about the importance of choosing the right packaging for a healthy and sustainable lifestyle. Younger consumers buy fewer glass-packaged products than older generations, and expect less glass across food and beverage products. Price (34%) and availability (34%) are the main barriers to buying glass.
However, younger generations identify glass packaging as the trendier option, and find glass to be the best packaging option in preserving taste and quality. While the study showed that the younger generation votes in favor of glass, they are less concerned about food safety issues and environmental issues related to packaging materials than older consumers.