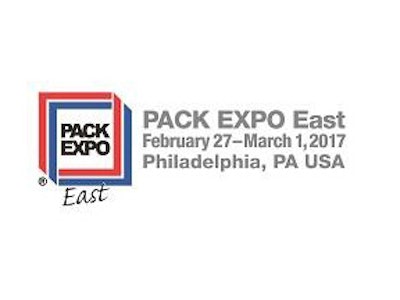 The Partner Program returns to PACK EXPO East 2017 (Feb. 27–March 1; Pennsylvania Convention Center, Philadelphia), kicking off another year of creating valuable connections in the packaging industry, announces show producer PMMI, The Association for Packaging and Processing Technologies.
The Partner Program pairs leading associations dedicated to advancing this industry, with PACK EXPO East attendees and exhibitors, bringing additional resources, connections and expertise to the show.
"Packaging organizations participating in the PACK EXPO East Partner Program understand the value of having a presence at the show, for their members and the packaging industry. They serve as a resourceful link between attendees and exhibitors, facilitating innovative solutions while bringing the industry together," says Jim Pittas, senior vice president, PMMI.
The four returning PACK EXPO East Partners agree, including John Mazelin, executive director of the Contract Packaging Association.
"Participation in PACK EXPO East provides the Contract Packaging Association with a unique forum to help both those who need information about best practices in contract packaging and our members, who provide those capabilities, to connect," Mazelin says.
The organizations involved in the 2017 PACK EXPO East Partner Program include:
• AIM
• Contract Packaging Association (CPA)
• Midwest Food Products Association (MWFPA)
• OMAC (The Organization for Machine Automation and Control)
PACK EXPO East brings together suppliers of packaging innovations for food, beverage, pharmaceutical/medical device, cosmetic/personal care, chemical/household and other packaged goods that serve companies of all sizes. Its location in Philadelphia places PACK EXPO East within 200 miles of one-third of U.S. consumer packaged goods companies. With 400 top suppliers and nearly 100,000 net square feet of exhibits, this trade show is the place to discuss production challenges and solutions in detail with suppliers of all sizes. It is a must-see opportunity for the entire operations team of all East Coast manufacturers to experience technology in action.
Register for PACK EXPO East at packexpoeast.com.