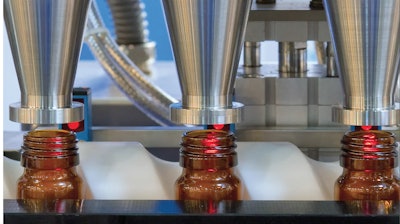 Despite more regulations, more global competition, more pricing pressure, more acquisitions and the need for more precision medicines—all of which could be considered obstacles to growth—the U.S. pharmaceutical market is poised for a technology transition that will aid future business.
Specifically, as the industry experiences a shift away from high-volume blockbuster drugs to more targeted and affordable treatments, there will be a manufacturing move to smaller batch runs, serialization and increasing SKUs. Collectively, these things are driving new investments in automation, according to the latest Business Intelligence report from PMMI, The Association for Packaging and Processing Technologies.
The PMMI report, titled Pharmaceutical & Medical Devices: Trends and Opportunities in Packaging Operations, reflects market conditions for the latter part of 2016. It includes feedback from 60 industry professionals from pharma, medical device and contract services companies, with about half of the respondents representing large (over $500 million) organizations.
A big takeaway from the report: Nearly half of the healthcare manufacturers interviewed continue to replace legacy equipment and buy new equipment, while two-thirds of participating companies predict spending even more on capital equipment in the next 12 to 24 months.
"Legacy equipment is a problem and causes line shutdowns at times," said one respondent, a process engineer at a pharmaceutical company. "We continuously reinvest in equipment and look for more automation and flexibility for shorter runs."
Operational improvements are driving new technology purchases. The top five motivators are:
Expanding the use of automation and integration.
Increasing throughput and advances in manufacturing processes.
Measuring overall equipment effectiveness (OEE).
Greater versatility during changeover due to increasing SKUs.
Installing more robotics.
To that end, the technologies that pharma companies seem most focused on include data management, serialization and robotics.
First, the Industrial Internet of Things (IIoT) is requiring more data collection capabilities throughout manufacturing and packaging, and with that comes the need to manage and analyze the data.
Second, meeting regulatory tracking compliance in the year ahead is top of mind, which is why serialization is important. It also plays a part in anti-counterfeiting tactics. So, beyond serialized coding, companies are looking further into 2D barcodes, RFID, smart labels, water marks and holograms for track and trace capabilities.
But companies are struggling with the costs associated with meeting regulations and setting up the internal infrastructure for data collection. What they aren't struggling so much with is where robotics factor in to the process.
Robots are a key investment moving forward, according to the report, with the majority of companies already using robotics in packaging and over 50 percent planning to install more robots in the future.
Most of the robots are being used in downstream packaging, but 12 percent of the companies expect to increase the use of robotics upstream for assembly, processing and depalletization of incoming materials. Manual procedures will still exist for some applications such as hand-filled tubes, diagnostics and custom work. But the emphasis on adding more robots into packaging is a way to increase overall productivity and worker safety.
"Robotics will continue to be used to improve product quality, reduce bottlenecks and alleviate repetitive tasks," said a plant engineer from a contract development and manufacturing organization (CDMO).
For a copy of the full PMMI report, click here: http://hcpgo.to/323