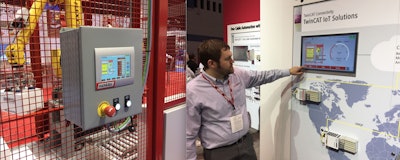 Walking through the halls of PACK EXPO, it's not at all uncommon to see robots picking up objects and putting them down elsewhere, flexing their packaging and palletizing muscles. What is less common is to see data from that machine displayed at another booth somewhere else on the trade show floor.
But we've entered into an age of Internet-connected machines and devices, where data of all kinds can be sent to the cloud for dissemination to other web-based devices. And as much as manufacturers might be hesitant to jump into something labeled as Industrial Internet of Things (IIoT) or Industry 4.0, the fact is that it's become much more common for them to be involved with some aspect of the technology.
In its booth at PACK EXPO this week, Beckhoff Automation is demonstrating this proof of concept with two of its OEM customers—Flexicell and Groninger. For example, the in-booth HMI shows in real time the activity of the Flexicell palletizer further down the aisle, detailing the layers and cartons being stacked and unstacked by a six-axis robot, and the production speed of the work. And with a quick scan of a QR code, anyone can get the same information on their smartphone or tablet. The concept is HMI anywhere, showing the ability to push live data to any screen.
It's all part of the practical implementation of the cloud-connected Smart Factory, combining IIoT-enabled hardware and software technologies. But don't try to tell manufacturers that what they're doing is IIoT or Industry 4.0. For some, no matter what level of activity they have in high-end traceability or Internet connectivity, they're often hesitant to put a label on it, said Shane Novacek, marketing communications manager at Beckhoff. "They're hesitant to identify it with a label. It's more about the capabilities, like continuous improvement or monetization," he said. "They're not in it because it's cool. They're in it to do something real."
And while machine builders have a huge potential to create new revenue streams with IIoT-style client services, they are far more likely to get into the technology if they see an opportunity with a large end user manufacturer, Novacek added.
But the capabilities and benefits are real, no matter what you call it. The Beckhoff approach expands on already-existing systems. The supplier's TwinCAT 3 PC-based control software platform has been expanded to give users the ability to create IoT and cloud-connected automation systems in the same universal environment they program PLC, motion control, robotics, safety technology and more.
New I/O solutions have also been introduced. Beckhoff's IoT Bus Coupler and IoT Box provide a simple method to directly connect I/O systems to the cloud and securely transmit data over recognized standards such as OPC UA, AMQP and MQTT. The IoT Bus Coupler connects EtherCAT I/Os with the Microsoft Azure cloud directly, without the need for a specific control program. The Azure Certified device offers simple and standardized integration of I/O data with cloud-based communication and data services.
Although everything at PACK EXPO is connected through Microsoft Azure, Beckhoff also uses Amazon Web Services for cloud connectivity. Further down the road, the supplier has plans for its own Beckhoff Cloud, a more industry-specific cloud service for machine builders and manufacturers that can have features and functionality more tailored to a true IIoT.
Other Smart Factory solutions Beckhoff has in its toolbox include TwinCAT Analytics for online and offline analysis; TwinCAT IoT, which provides a variety of functions for exchanging data; and EtherCAT P, which combines EtherCAT communication and power in one standard, four-wire Ethernet cable.
Companies in this article