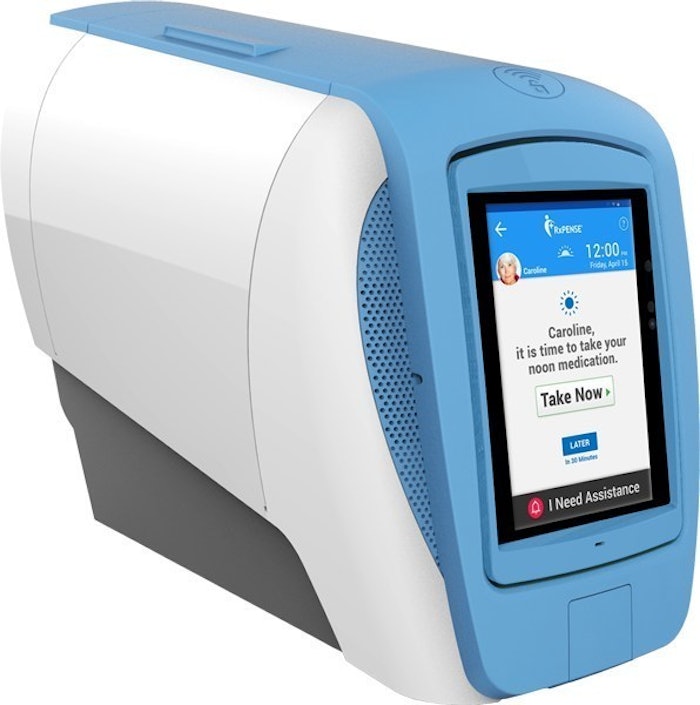 Montreal-based Medipense Inc., developer of leading-edge products and services to address the needs of seniors suffering from chronic diseases—and the infirm—is launching RxPense®, an IoT-connected, medication management and remote patient monitoring product specifically designed for seniors or those suffering from chronic disease.
RxPense, designed in Quebec and manufactured in Canada, robotically opens medications provided in Dispill®, Distrimedic or other blister packaging filled by pharmacists.
RxPense Hub aims to help seniors take medications, on time, every time. It automates the dispensing of pharmacist-filled blister-packaged medications, with the goal of increasing medication adherence, reducing hospital admissions and providing better patient outcomes, thereby reducing the $300 billion cost of medication non-adherence in North America. With robust security, support for telemedicine and connected sensors, the RxPense also allows healthcare providers and caregivers to access real-time health data via the Cloud.
"It's only fitting that we launch the RxPense in Quebec, at the annual convention of l'Association québécoise des pharmaciens propriétaires (AQPP), with our Quebec distribution partner Rx-V, experts in pharmacy solutions," says Terry Fagen, President and Founder of Medipense. "Quebec is a mature market for multi-dose blister packaging and we expect that Pharmacists across the region will have a keen interest in the advanced RxPense medication management system."
"Rx-V is thrilled to be associated with Medipense," says Frédéric Poirier, President of Rx-V," and is especially honored to represent Medipense at this important product launch at the AQPP on November 17 & 18 in Quebec City."
Seniors are notified when it is time to take their medications and may then release their dose by swiping their security tag or entering their PIN code on the large touchscreen display. Medications are then provided in an opened package making it easy for seniors to consume. Instructions are displayed until the senior confirms that they have taken their medications.
RxPense not only dispenses medications, but it also records consumption and patient health through wearable sensors. A complete audit trail is uploaded to the Cloud and made available to authorized caregivers and health care providers.
Medipense's mission is to develop new hardware and software technology products that reduce cost, reduce morbidity and increase quality of life though better adherence. Its products are designed to be simple to use for seniors, yet secure and feature-packed for caregivers and health care providers.
Medipense completed several years of intense research and development and has transitioned over to manufacturing. Pilot projects in Quebec and across Canada have been scheduled and commercial units will be available in the first quarter of 2017.Purchasing, leasing and subscription-based pricing will be available at that time.