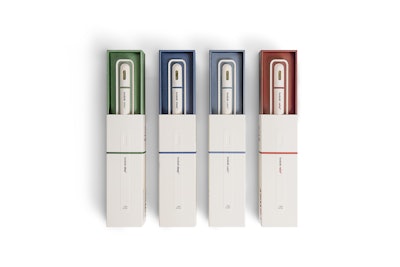 While medical marijuana is now legal in the majority of the U.S., the industry is new and still finding its footing in terms of standardization. With a wide variety of products and delivery forms (including inhalable, edible and topical products), patients can have trouble with dose consistency.
But strides are being made to provide patients with dosage control and consistency across batches, such as with encapsulated cannabis oil and vaporizer pens.
The hmbldt dose pen is a proprietary vaporizer pen that allows patients to inhale a consistent dosage each time through its temperature, airflow and time controls. The pen, which comes pre-filled with one of four hmbldt medical cannabis formulas, is composed of medical-grade recyclable material. A vaporization element heats the formula to an optimized temperature, while a precise amount of formula is fed from reservoir to wick. To help prevent overinhalation, the flow of vaporized formula to the patient is controlled and the pen vibrates after a three-second dose is delivered.
Beyond the dose pen's mechanical features, hmbldt performs analytical testing for active ingredient content and contaminants on each batch at first extraction, after distillation and at final formulation to provide patients with consistent formulas from pen to pen. hmbldt products are currently available at select medical marijuana dispensaries in California and through eazeup.com, an on-demand technology that connects medical marijuana patients with deliveries from select compliant dispensaries. The Northern California-based company provides product education to dispensaries and patients for informed decisions.
hmbldt is currently developing two other medical marijuana delivery devices: a metered-dose oral spray and a rechargeable vaporizing pen.
Companies in this article