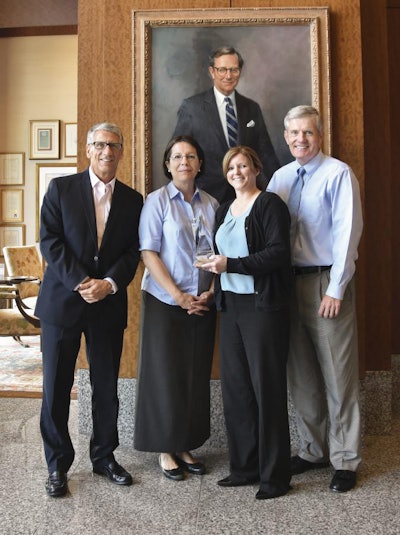 Companies
Pro Mach, Inc. added global engineering services for packaging solutions with the acquisition of Ontario-based Zarpac, Inc., a provider of packaging line engineering, integration, and productivity services and solutions.
API Group acquired Hazen Paper Co.'s Paperboard Lamination facilities and business in Osgood, IN.
Accraply acquired UK-based Harland Machine Systems, LTD.
Triangle Package Machinery launched its redesigned, responsive website.
Dorner Holding Corp. acquired Germany-based Geppert-Band, a manufacturer of belt and modular belt conveyors.
Karlville and Musashino Kikai formed a strategic machinery partnership.
Automated Packaging Systems acquired Ergocon Solutions.
Placon acquired Brookdale Plastics.
Bemis Co., Inc. acquired the medical device packaging operations and related value-added services of SteriPack Group.
The Industrial Bags business of Mondi in North America is investing in its North American plants to improve product quality and speed shipments to customers throughout the continent.
Packaging World recognized Printpack's 60th anniversary at Printpack headquarters in Atlanta, GA. Photo shows, Printpack's Alisha Howard, Marketing Manager, and Dave Read, Vice President Marketing & Technology, accepting the award. Far left is Joe Angel, Packaging World Publisher and President of PMMI Media Group, and beside him is PW Regional Sales Manager Christine Smallwood.
People
DataLase appointed Andy Wragg Chief Operating Officer for Europe and Emma Dixon finance controller.
Tom Tobin was appointed Senior Sales Manager, Midwest Regional Sales and Operations
for Intelligrated.
Vitex Packaging Group hired Tom Carlton as National Sales Manager and Bethaney Tinto
as Sales & Marketing Support Specialist.
Mike Cicco was appointed President and CEO of Fanuc America.
Tekni-Plex promoted David Andrulonis to Senior Vice President and General Manager, Tri-Seal closure liners business unit and Kirk Rumsey to Vice President of Procurement and General Manager of U.S. Tekni Films business.
Michael Wöhrmann was named Director for Domino's Laser Business.
Achievements
Independent Can Co. was recognized with the 2016 Best of Category award for Specialty Packaging by the International Metal Decorators Assn.
The Brazilian pharmaceutical industry awarded Klöckner Pentaplast the Sindusfarma Quality Award for preferred/best blister packaging solution provider.