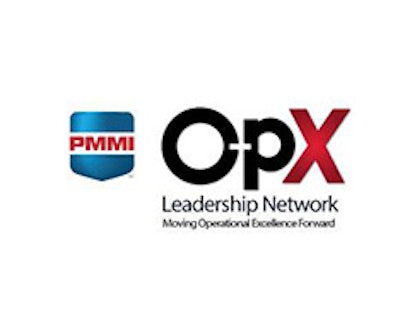 The OpX Leadership Network, convened by PMMI, The Association for Packaging and Processing Technologies, is pleased to recognize the manufacturing plants honored during the second annual Sustainability Excellence in Manufacturing Awards. McCormick & Company and Olam Spices & Vegetable Ingredients received first place honors at the awards presentation on April 13, during Food Engineering's Food Automation & Manufacturing Conference and Expo in Fort Myers, Florida.
The peer-reviewed awards, presented by the OpX Leadership Network, recognize facilities for projects or programs that improve sustainability efforts in food, beverage or consumer product manufacturing operations, focusing on pollution prevention, compliance, assurance and environmental protection.
The award winning companies' diverse projects and programs include:
Projects Category
First Place: McCormick & Company – Net Zero Energy Use
Second Place: Smithfield Foods – Water Reuse
Third Place (tie): Snyder's-Lance, Inc. – Wastewater Project, Clean Discharge
Third Place (tie): Sunny Delight Beverages Co. – Power Quality and Conservation
Programs Category
First Place: Olam Spices & Vegetable Ingredients – Water Use Reduction in Tomato Processing
Second Place: Musco Family Olive Co. – Ethical Sourcing of Products
Third Place (tie): Big Heart Pet Brands – Community Engagement
Third Place (tie): Sunny Delight Beverages Co. – Packaging Materials Reduction
"We were thrilled to honor these companies and their dedication to innovation, quality and environmental sustainability," said Steve Schlegel, co-managing director, OpX Leadership Network. "Their pursuits of sustainable manufacturing goals are inspiring and we look forward to seeing further improvements to sustainability in food, beverage and consumer products operations next year."
The OpX Leadership Network was founded by PMMI in 2011 to ensure consumer packaged goods companies and original equipment manufacturers are well-connected and well-prepared to solve common operational challenges, make smarter decisions and achieve operational excellence.
Award winner case study videos and award submissions will be posted to the OpX Leadership Network website. To learn more about the OpX Leadership Network and future industry events, visit OpXLeadershipNetwork.org.