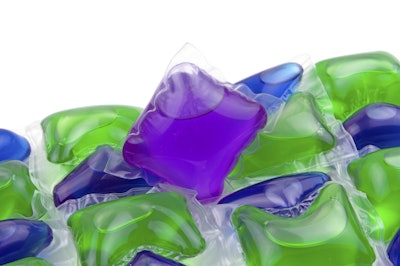 ASTM International has announced that a new safety standard for labeling and packaging individually wrapped liquid-detergent laundry packets is on track for final approval on Sept. 15. The standard (F3159-15, Consumer Safety Specification for Liquid Laundry Packets) is aimed at reducing the risks of ingestion, particularly by children.
"This is a great example of how industry, consumer groups, government, and others come together, reach consensus, and work to create a stronger culture of safety and health," says James A. Thomas, President of ASTM.
Laundry packets are an increasingly popular way for consumers to start a single load of laundry. However, the packets have been a concern due to accidental ingestion by children, which has caused coughing, choking, vomiting, respiratory distress, loss of consciousness, and if in contact with the eyes, irritation and corneal burns. The new standard details how liquid laundry detergent packets should be contained in opaque or other packaging intended to mask the visibility of the packet and be labeled with warning statements. The specification also provides packaging performance requirement options for complying with the standard, which will make packets more difficult for children to open.
"Manufacturers of liquid laundry detergent packets are very committed to reducing the number of accidents with these products involving children, which are used safely by millions of consumers," says Richard Sedlak, Executive Vice President for Technical & International Affairs at the American Cleaning Institute (ACI). "We maintain an unwavering commitment to consumer safety and look forward to continue working closely with our colleagues in the ASTM process." ACI represents the detergent and cleaning products industry and has been involved in ASTM technical activities for decades.
Rachel Weintraub, Legislative Director and General Counsel for the Consumer Federation of America, is also a longtime participant in the work of Committee F15.She says, "The standard signifies a very positive step forward. The subcommittee will continue to monitor the data and do the necessary work to ensure that the standard truly reduces incidents associated with these products."
In late 2012, the U.S. Consumer Product Safety Commission issued a safety alert that these packets should be kept away from children. ASTM's Subcommittee on Liquid Laundry Packets (F15.71), part of Committee F15 on Consumer Products, convened representatives from industry, advocacy groups, international organizations, and consumers. Frequent virtual and in-person meetings over the last several months led to this standard, which is on track for Sept. 15 approval by ASTM's Committee on Standards. It will be published shortly thereafter.
To purchase standards, visit www.astm.org and search by the standard designation, or contact Customer Relations at 877/909-ASTM or sales@astm.org.