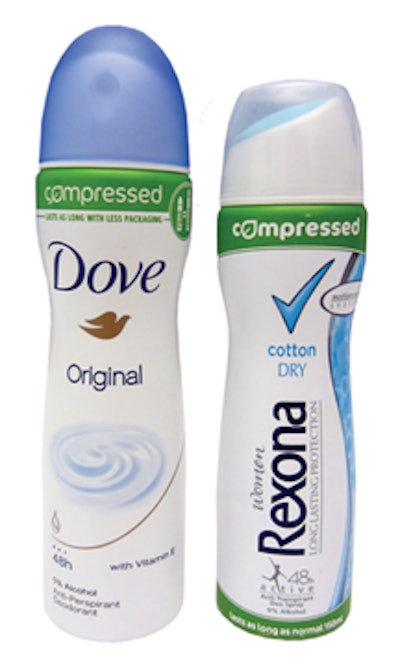 Dramatic source reduction
Winner of the Diamond Award in this year's DuPont competition is Unilever's compressed aerosol deodorant can. It was recognized by the judges for Technological Advancement, Responsibility, and Enhanced User Experience.
According to Unilever, the compressed packaging has come about as a result of many years of research and development. By re-engineering the spray system, in partnership with valve supplier Lindal Group, the amount of gas needed to deliver the same level of deodorant active with each spray was greatly reduced. This makes it possible to deliver as much wetness and odor protection that lasts as long as a 150-mL aerosol with a smaller pack that uses less packaging and gas.
The new compressed 75-mL cans were launched across three brands for women (Sure, Dove, and Vaseline) in February of 2013 in the UK and Ireland. Four brands for men (Sure for Men, Dove for Men, Vaseline, and Lynx) were launched in the can in the UK and Ireland in January of 2014, the same time that the range of Compressed cans for the women's brands was extended with the introduction of a 125-mL size.
"As part of the project, we worked hard on developing a can that fits conceptually and is right for each consumer," says Unilever's Louis Lindenberg, Global Packaging Sustainability Director. "For example, the can for women is curvy and cute, while Sure for Men uses a masculine straight wall can measuring 45 mm across as this feels better for men than a thin 38-mm can. Axe, also for men, is in a 53-mm can and copies the principles of the square can to stay aligned with the masterbrand image. Technically we have pushed the limits by making the cans as short as possible and still run efficiently on our highest-speed aerosol filling lines." Graphic development, notes Lindenberg, was carried out with Epoch Design. Multiple can suppliers produce the impact-extruded aluminum containers for Unilever.
This initiative grew out of the Unilever Sustainable Living Plan (USLP), under which all Unilever categories were tasked with looking at their portfolios to find marketable solutions to reduce their demand on resources and to reduce the amount of waste going to landfill. In the case of aerosols, reducing material used could have resulted in potentially dangerous elements bursting from the container. So great care had to be taken and it was important that the total system be redesigned to ensure consumer safety and satisfaction.
Unilever lists the benefits of this development as follows:
• Less aluminum is used
• Less propellant is used per container
• Smaller pack/product allows a significant reduction in transport requirements and number of trucks involved throughout the supply chain
• Less space is needed in warehousing and on shelf
On average, across all aerosol brands launched, a 25% reduction in can weight was achieved. Finally, Unilever notes that the cross-brand launch marks the first time that Unilever has introduced an innovation across all of its key category brands at the same time using a single advertising campaign to deliver a key message: that a smaller can size lasts just as long and is more environmentally friendly.
To see a spin + zoom 360° photo, click here.
'Smart' dosing cap eliminates product waste
Liquid cleaner packaging marketed by Procter & Gamble is the recipient of a DuPont Gold Award for Technological Advancement and Enhanced User Experience. The sustainable packaging for the Mr. Clean product, developed by the P&G design and engineering team, features an innovative, smart dosing (auto-stop) cap that is said to be the smallest dosing system in the global market. The new packaging was introduced to the UK in Summer 2013.
According to Gian De Belder, Packaging Development-Bottle Blowing Capability at P&G, the development of the innovative cap coincided with the introduction of a concentrated product formula that is 2.5 times stronger than the non-concentrated Mr. Clean formula. Fearing that consumers accustomed to the non-concentrated formula would pour too much of the concentrated liquid gel into their cleaning buckets, P&G came up with the dosing cap to pretty much rule out any such possibility. To further differentiate the concentrated version, the firm developed a new injection stretch blow molded PET container weighing 33 g rather than using the 78-g extrusion blow molded HDPE in which the non-concentrated Mr. Clean is found. This transition translates to up to 43% less packaging material usage per bottle.
The smart liquid-dosing apparatus uses a timer mechanism activated by one squeeze of the bottle. The system dispenses the product and, at the same time, moves a small piston forward to cleanly shut off the product flow as soon as the prescribed dose has been dispensed. Consumer simply inverts the flexible plastic bottle, squeezes, and the cap consistently auto-stops product flow when proper dosage is measured, avoiding over-use of product.
The smart cap system, therefore, enables improved control and more efficient use of cleaning products. It is designed to give consumers the same pre-measured amount of cleaner with each squeeze. This system offers a definite advantage over other cleaner containers that require either direct pouring from the bottle without measuring or non-controlled dosing. The easy-to-open flip-top cap construction consists of four plastic (all fully recyclable PP) parts and can be manufactured at low cost compared to some other dosing systems.
To maximize potential usage of the dosing system for a range of products, prescribed dosage can be adapted across several P&G product lines to vary between 5 and 50 mL with extremely high accuracy. Since its initial launch in the UK, the cap has now been introduced in France, Belgium, The Netherlands, Luxembourg, Greece, Spain, and North America.
Pouch gives UHT milk 90-day non-refrigerated shelf life
A flexible pouch packaging system for extended shelf life UHT (ultra high temperature) treated milk has earned a DuPont Gold Award for Responsible Packaging and Enhanced User Experience. The pouch system was developed by Parakh Agro Industries, a manufacturer and distributor of barrier films, in collaboration with Elecster, a supplier of aseptic pouch forming//filling/sealing systems and packaging materials.
Gujarat Cooperative Milk Marketing Federation (GCMMF), Gujarat, India, made a nationwide launch of its branded Amul Moti UHT milk in this packaging in September 2012. The India-wide product and package roll-out followed a successful regional introduction by GCMMF member Mehsana Dudhsagar Dairy.
Initially, the Amul Moti UHT milk is being marketed in individual 500-mL pouches and multi-packs. But the Elecster aseptic filling system can accommodate 100-, 200-, 500-, and 1000-mL pouch sizes. The barrier pouch rollstock structure is an EVOH-based 5-layer film (LLDPE/LDPE) made with films supplied by Dow Chemical and Exxon Mobil. The structure also incorporates a DuPont™ Bynel® 4109 tie layer resin, and the EVOH main barrier polymer is from Kuraray-Japan.
Parakh Agro operates highly automated blown film lines and Miraflex flexography print lines, both from Windmoeller & Hoelscher Corp. Kodak USA also supports Parakh Agro's digital printing of high-resolution images on flexible packaging.
Prior to aseptic pouch forming/filling/sealing, the milk is heat-treated at 138 degrees Celsius to kill all pathogens and then cooled. Resulting non-refrigerated shelf life of the unopened product is 90 days. This packaging advancement provides important supply chain improvements because the pouched milk does not need to be transported in a refrigerated state in order to maintain product quality and safety, and the pouches are highly leak-resistant. In addition, the cost of the pouch unit packs per liter is estimated to be six times less than aseptic carton packaging alternatives.
Vipul Chaudhary, former Mehsana Dairy chairman and now leader of GCMMF, emphasizes the need for this product and packaging approach. He notes, "There are states which face acute power shortages and where consumers have no means to refrigerate milk."
Two separable pouches a winner for Nestlé brand MAGGI Stir Fry Creations
If you're not hungry now, you may well be after watching the YouTube video, "How to prepare MAGGI Stirfry Creations."
The video not only demonstrates how to quickly prepare a great Asian meal, but also shows you how easy the unique separable pouch is to use, as well as the gorgeous printing on the pouch, both of which helped earn a DuPont award for Technological Advancement and Enhanced User Experience.
MAGGI Stirfry Creations is a Nestlé brand currently sold in Australia and New Zealand in multiple marinade flavors such as Sweet Chilli, Ginger and Lemongrass Chicken Stir fry, and Honey, Soy & Garlic Chicken Stir Fry.
DuPont recognition for the separable pouch goes to Amcor Flexibles—Huizhou, China and Singapore. Amcor also credits Landor for its role in the MAGGI pouch. Landor is a creative branding firm whose website lists Nestlé as a food client.
In describing the pouch, DuPont says, "Consumers can prepare home meals using two separate paste mixes at different points in preparation with Amcor Flexibles' plastic separable pouch. The package contains two separate pouches that are co-joined by an easy-tear dotted line. Made by a smart mold in the bag-making machine, the technology advancement is the clean, simple separation of the two pouches. The packaging allows consumers to reduce the complexity of using many ingredients over a number of steps, but still create an authentic stirfry flavor. Amcor Flexibles' two-pouch solution drives brand differentiation and meets the consumer desire for a more adventurous cooking experience with an easy-to-use, simple, convenient packaging solution."
Amcor prints and converts the two separate pouches, which are provided together. Amcor says a "triplex lamination structure is printed using rotogravure technology." Different colors printed on the front of the pouch clearly differentiate the two different sauce pouches. The video noted above shows how a consumer can easily tear open the pouch vertically down its center, resulting in the two separate sauce pouches. Once that's done, there's also a convenient tear notch on the two sauce pouches that tears horizontally to allow the contents to be removed.
Amcor supplies premade pouches to Nestlé for hot filling and sealing. The pack is shelf stable.
Says Amcor, "The challenge for Nestlé, Amcor, and Landor was to create a packaging experience that combined two separate sauces/marinades in a convenient packaging format to facilitate at-home meal preparation. The packaging needed to stand up on-shelf, have a transparent window, and be easy opening, easy to use, have separate compartments, and provide a unique at-home cooking experience.
"This pack is a disruption on shelf and makes it easy for anyone to be a chef! The at-home cooking experience is further enhanced by the use of QR codes that enable the consumer to experience a step-by-step cooking demonstration on how to use the two sauces. The design has attracted new consumers to the category."

Paperboard 'pouch' dispenses semi-fluid pasta
Paperboard is often thought of as an outer package used primarily to contain and market the product that's inside. But Malsch, Germany-based brand owner frizle AG and Trochtelfingen, Germany, pasta manufacturer ALB-GOLD utilize paperboard for a shapely disposable "pouch" through which consumers squeeze a semi-fluid pasta dough, or "spätzle," through "dosing cuts" in the bottom of the pack into a pot of boiling water. Within minutes, the pasta is ready to be drained and consumed.
VerDeSoft's project involvement in the paperboard pouch won a DuPont Gold award for Technological Advancement and Enhanced User Experience.
Pouch graphics describe the new product as "Freshly Squeezed Spätzle directly out of the box." Instructions read: "1. Open, remove seal. 2. Squeeze raw spätzle dough into boiling water. 3. Enjoy your home-made spätzle after 3 min—as tasty as only handcrafted ones can be."
Although it's narrarated in German, the YouTube video clearly communicates how to use the pouch to make the pasta.
Helping frizle AG on the package were the following companies:
• VerDeSoft, a Nurnberg, Germany, service firm that develops new packaging concepts through graphics, shape design, 3D visualization, sampling, consulting, and engineering.
• Martin Spiegel Kartonagenfabrik GmbH & Co. KG, a Hochberg, Germany, maker of cartons, boxes, and transport packaging.
• Billerud-Korsnas, a Solna, Sweden, maker of the Light 250 cartonboard used for the pouch. The 250 g/m2 pouch is coated with 50-micron polyolefin film. It is four-color-offset-printed, plus varnish, using non-mineral-oil-based inks.
The geometrically shaped paperboard pouch bottom provides the stability needed to withstand the pressure of squeezing the pasta through the dosing cuts, which are visible once the consumer removes a label-like strip of material from the pouch bottom. An inner layer of film acts as a barrier and is sealed/welded to the pouch.
Thanks to the packaging, preparing and cooking fresh pasta in minutes is now possible. DuPont noted, "This holistic approach of integrating the product and package creates a unique user experience enabling anyone to cook fresh pasta without creating a mess in the kitchen."
VerDeSoft's Thomas Reissig notes that the pouch is made of fresh fiber cardboard (FSC) and printed with non-mineral-oil-based inks.
He says, "We also developed an erecting, filling, and closing machine. To ensure perfect tightness and [to] speed-up the packaging machine, all sealings/weldings are done by ultrasonic technology." Reissig preferred not to divulge specific details about the machine or describe its process, other than to say the equipment is used by ALB-GOLD.
Sold refrigerated, initially in Southern Germany for €2,99, frizle is available in three versions: classic/original, wild garlic, and spicy chili paste flavors. It's expected to be sold in other countries in the future.
The pouch was also awarded by the German Packaging Award in 2012 "as a completely new product in a standalone package, which takes over the function of a spätzle press."
Direct digital printing on PET, HDPE
Billions of plastic bottles are labeled. From cut labels applied by glue to in-mold labeling to pressure sensitive labels to roll-fed shrink film, there's no shortage of ways to put a label on a bottle.
What if a significant portion of them didn't have to be labeled at all because direct printing on the bottle itself would carry all the messaging necessary at a reduced cost and in a manner considerably more sustainable? That was the thinking behind the recent launch of Direct Object Printing (DOP) from Plastipak. It won a DuPont Gold Award for Technological Advancement and Responsible Packaging.
The initial objective of Direct Object Printing was to reduce or eliminate short-run label costs, which are typically very high. But during development, Plastipak engineers and marketers realized that printing directly onto a bottle provided these additional advantages over printing onto a label substrate:
• It can simplify the supply chain.
• It can increase speed to market because printing plates are not required.
• It can enable late-stage differentiation through variable printing and quick design transitions.
• It can minimize environmental impact because in addition to reducing label substrates and glue from landfills and recycle streams it also minimizes the carbon footprint associated with making and transporting labels and glue.
While Plastipak has been working on this now-patented development for about eight years, the technology has been in commercial use for about four years. Hydration Source LLC was among the earliest adopters with their eco2o brand bottled water. At their Modesto, CA, plant, a Plastipak through-the-wall arrangement sends injection stretch blow molded PET bottles through the in-line Drop-on-Demand digital ink-jet printing equipment and then to Hydration Source's filling lines. Plastipak says its system is designed to keep pace with the speed of the Sidel (www.sidel.com) stretch blow molder it uses to blow bottles. Predictably enough, the inks used in the Plastipak system, which are of the UV-cured variety, play a key role. But Plastipak prefers not to identify the ink vendor. Hydration Source currently has both 10- and 20-oz PET bottles printed via DOP.
Intriguing though it is, the Hydration Source bottle is not the one that Plastipak references in its DuPont Awards entry. Instead it's a Procter & Gamble Tide brand High-Efficiency laundry detergent bottle that Plastipak extrusion blow molds in Jackson Center, OH, and Pineville, LA, in seven sizes: 40-, 46-, 50-, 60-, 75-, 92-, and 100-oz. The primary decoration is in-mold labeling on front and back. Where Plastipak's Direct Object Printing is used is for the violator on the shoulder that designates the product as one that should only be used in a High-Efficiency (HE) washing machine. Until DOP entered the picture, P&G had to include the HE symbol in the front-panel IML label. So if there was a 40-oz Tide Mountain Spring and a 40-oz Tide Mountain Spring HE, that meant that P&G had to inventory two separate labels, one for Mountain Spring and one for Mountain Spring HE. Now that DOP is in place, P&G can inventory one undifferentiated label for both "flavors" and add the HE symbol as the bottle goes through the packaging line.
To see a spin + zoom 360° photo, click here.
To view the DuPont Silver Award winners, go to pwgo.to/783.
Companies in this article