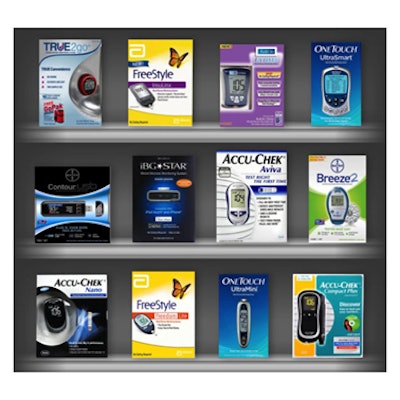 November is National Diabetes Month and according to Centers for Disease Control and Prevention, diabetes affects 26 million Americans, with 19 million of them diagnosed and 7 million undiagnosed. To check blood glucose levels, diabetics use blood glucose monitoring systems.
Recently, Affinnova, Inc., a global marketing technology company that aims to improve innovation and marketing success rates, released results from a recent Package Design Audit of popular diabetes meters. The audit examined 12 of the top U.S. brands, showing that even in the medical device industry, packaging—including key messages and imagery—has the ability to dramatically change diabetes patient brand perceptions and in turn buying behavior.
As patients take more control over their healthcare decisions, diagnostic manufacturers must treat package design with the same scrutiny as marketing or advertising.

According to the Joslin Diabetes Center, diabetes affects 350 million people worldwide. Research and Markets predicts the worldwide glucose monitoring devices market will hit more than $16 billion by 2014.
In the U.S., many types of blood glucose meters are available, making competition for sales fierce. For patients and patient advocates, packaging can be a critical factor in making a purchase decision in-store. Package design represents an opportunity for device manufacturers to stand out on shelf and amongst the competition, boosting sales and brand perception in the process.

Affinnova obtained the results through its Design Audit technology, which measures package design impact on consumer perception across a range of product categories. In the study, half of the patients were asked which personality traits each brand name alone is known for. The other half was asked about personality traits specific to the diabetes meter package design itself, uncovering important brand perception gaps. Eye-tracking tests then measured on-shelf visibility and share of attention, while qualitative feedback was also captured for specific design elements on each package. Key findings included:
• Package design can erode brand perception: Marketers must ensure that key brand personality traits are being carried through with glucose meter packaging.
• Bayer's Breeze 2 packaging improves personality perceptions in nearly every personality trait, including "confident, safe and simple."
• Johnson and Johnson's OneTouch UltraMini packaging illustrated brand erosion for a number of key personality traits including, "smart, caring and sophisticated."
• Unique designs stand out on shelf: A poorly perceived package can quickly undermine the millions spent on marketing and advertising by falling short at the shelf.
• WalMart's ReliOn packaging had very strong shelf visibility and maintained the highest share of attention score above the indexed average, compared to all others in the study.
• Personality matters: Each product category has a set of distinct personality traits that every brand aspires to be known for. The medical device field is no exception. For this study, a number of brands stood out as winners for their packaging on a number of personality traits.
• Bayer's Contour USB package finished first in "modern, sophisticated and innovative." Conversely, it finished second to last for "simple."
• Roche's Accu-Chek Aviva was seen as the most "reliable, safe and caring."
• Johnson & Johnson's OneTouch UltraSmart is seen as the most "smart, confident, trustworthy and protective." The package received very high personality rankings across the board, though it finished last for "simple."

About the study
Affinnova Design Audit: Diabetes meters included 600 nationally representative diabetes patients, who evaluated the 12 U.S. brands: Accu-Chek Aviva, Accu-Chek Compact Plus, Accu-Chek Nano, Breeze 2, Contour USB, Freestyle Freedom Lite, Freestyle Insulinx, OneTouch UltraMini, OneTouch UltraSmart, ReliOn, True2Go, iBG Star.