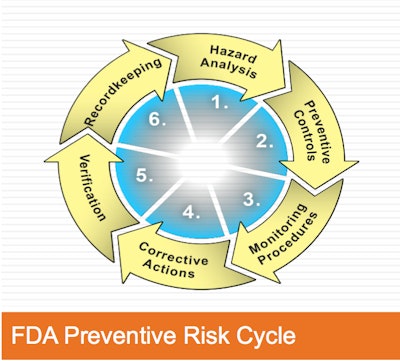 Food safety requirements are both very well established and at the same time a bit of a moving target. Major retailers increasingly require their suppliers to comply with the Global Food Safety Initiative (GFSI). Food production and packaging companies must also meet the proposed requirements of the U.S. FDA's Food Safety Modernization Act (FSMA).
Speaking at the Food Safety Summit Resource Center at Pack Expo 2013, Bill Bremer, senior consultant with
Kestrel Management
, discussed "Changing HACCP Requirements for Packaging and meeting the U.S. FDA's FSMA Risk Based Preventative Control Requirements." In this overview presentation, he discussed of compliance issues including FSMA Preventative Controls as well as HACCP programs that are acceptable for certification for GFSI global food safety standards including BRC, FSSC 22000, IFS and SQF. With so much ground to cover, Bremer showed the commonality of most if not all food safety requirements in Bremer's presentation of an "FDA preventive risk cycle." This begins with hazard analysis, and ends with record-keeping…but is in fact a continuous loop encompassing six major steps:
Hazard Analysis
Preventive Controls
Monitoring Procedures
Corrective Actions
Verification
Record-keeping
Step 4, Corrective Actions, is just one of these critical areas, but provide a good example of how important it is for tight, "closed-loop and absolute" control of all processes, from documentation to hands-on actions in the plant. "This is a legal requirement enforceable by FSMA," Bremer said. Giving a rundown of the "musts" in this area, he said a facility must…
Have a documented Corrective-Action plan
Identify corrective actions (method)
Implement preventive controls & other changes (method)
Ensure that questionable food is evaluated for safety & safe distribution
Ensure that adulterated food is prevented from entering commerce
Again, this is just one aspect of the cycle, and plants must drill-down in all areas, from hazard analysis through record-keeping. But consultants such as Bremer continue to help plants plant and implement plans that will ensure safe, compliant operation in an age where food safety is increasingly imperative.