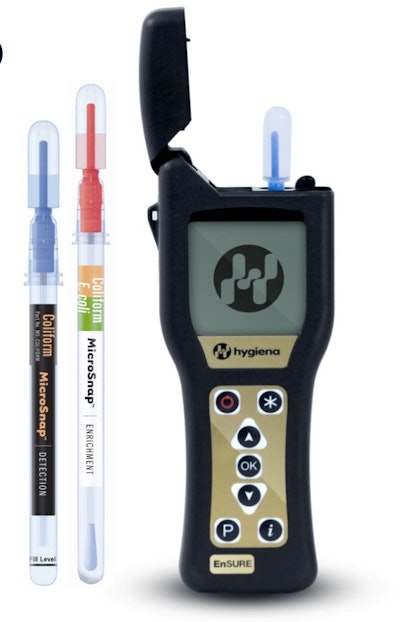 Microorganism tests take too long. "What risks are you taking? How long can you wait?" asked Lauren Roady, marketing manager for Hygiena, at a Food Safet ySummit presentation at Pack Expo 2013. She told attendees her company has "revolutionized" monitoring though the development of a multifunctional luminometer capable of measuring TVC, Coliform, E. coli—and providing same-day test results.
Applications include presence/absence (qualitative) and enumeration (quantitative)
 for raw materials, environmental or finished product. Environmental applications include preventing contamination, evaluating sanitation efforts, troubleshooting and more. Bottom line, the company claims the technology can reduce outside lab costs 60 to 80%.
No matter the specific dollar benefits, the need for more rapid testing presents a major opportunity. Results on environmental samples can take up to five days to come back from outside labs, and can take days even with in-house testing.
Hygiena promotes its MicroSnap for testing for Coliform (AOAC-RI PTM) and E. coli (AOAC-RI PTM)
. TVC is now in AOAC trial. Additionally, Enterobacteriaceae, a Salmonella indicator, is in development. The comapny is promoting its technology in a
YouTube video
.