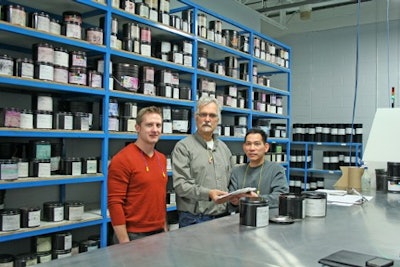 The Smithville, Ontario-based converter serves about 700 customers marketing a multitude of brands, each with its own unique color demands. Products range from ice cream to chicken wings and a host of other foods plus packaging for personal care products, pet food, and more. So the NovaFlow liquid ink dispenser and INX Manager software, both from INX International Ink Co., come in mighty handy.
"We run 24/7 and handle about 30 jobs a day, with very tight schedules. We have many short runs, some with only 1000 sheets," says Stanpac Graphics Manager Bas Opdenkelder. "But we are aware of upcoming jobs at least 24 hours in advance, and our in-plant setup ensures that the inks are ready. It's easy to train production people on the floor to use this system. If we need more ink or a different job must be moved, even overnight when no one is here, they can log in their name and number to dispose of ink or make what they need quickly."
The ink room didn't always function so smoothly and efficiently, Opdenkelder reports. "When I began as Graphics Manager several years ago, the Press Manager asked if I could take care of the ink room. As is the case in many traditional, very busy operations, the room was a bit of a mess. When someone needed ink we would order it, and often had to be sent by FedEx in a day or two. Because of our growth and being so busy, the room needed to be reorganized."
Opdenkelder says he first took a cue from Stanpac's U.S. facility in Brenham, Texas, which had an in-plant arrangement with INX. "Our Texas operation involves Flexo inks only, as they print mostly polycoated paperboard for ice cream containers. The INX system was selected to meet the needs of our product and equipment mix and helped reduce ink inventory."
Opdenkelder decided to trial some INX products and obtained a quote for a dispenser. He also visited an INX customer's in-plant operation in Washington state, where he saw how easy it was and how people could log-in and dispense ink as needed.
"Our objective was two-fold. We wanted to reduce ink inventory and make sure we had the required inks available around the clock. When you're on-press at night, you don't want to run out of ink and stop or pull a job. INX trained our people on the system, so that even unexpected job changes can be handled without missing a beat."
An important aspect of any formulation is to incorporate leftover ink whenever possible; system software makes it easy. While difficult to calculate the actual percentage of inventory eliminated over the past several years, he adds, "It's significant; we have far less than before." Although inks typically account for less than 5 percent of total job costs, savings add up. "I would say we have saved at least $200,000 by having this system in place, probably more."
Those savings are just one side of the coin. The flip side includes prep-time savings and going on-press with confidence, thanks to precise color blending that computerized, automated formulation and dispensing provides. Quick client approvals as well as less substrate waste and related efficiencies also flow naturally from a well-organized ink room.
Opdenkelder and colleagues also quickly established their own comprehensive collection of color-specific UV formulas. "Several years ago, we were the first group working with UV inks through the INX system," he explains. "We didn't start with a database of inks, per se, but rather from the standpoint of we need these colors, so let's start making them. Most of the colors we have in the PMS color book were matched and then placed into the machine.
"Their UV inks show a lot of vibrancy and sharpness that our customers like to see, and it has been successful in increasing our sales. Now we have a huge electronic library of computerized and documented color formulas on-call for anyone who needs them. With UV or Flexo, we factor in substrates that make a difference, too. Polycoated paperboard, for example, used in ice cream packaging is less absorbent than other papers running through the press. Adhesion can be a problem, but it hasn't been with these inks."

The last five years haven't been without challenges, but Stanpac has made wise choices spending capital available to them. The good news is the inventory-reducing INX in-plant operation helps improve cash flow.
Unlike many companies in the lagging economy, business for Stanpac has steadily if not spectacularly increased during this period. Opdenkelder said that ice cream, popcorn and similar treats while watching a movie offer families relatively inexpensive entertainment, which in turn keeps many Stanpac customers busy and their demand for more packaging high.
In fact, Stanpac's Aquaflex, Webtron and sheetfed Heidelberg presses have been so busy, the company purchased a new Heidelberg XL 106. "We saw it at drupa last year and it's the first XL 106 press in North America. Recently installed, it has six colors plus varnish, with automated plate changing and many other productivity features."
The wide-format press means many more jobs can be run with a single setup. This includes containers for confections and yogurt, retail foods, cups and lids, food service and others such as ice cream. After die cutting and conversion/finishing, they leave Stanpac in Smithville for a lengthy list of locations throughout Canada and the U.S., as well as in Europe, South America, the Caribbean and Australia.
"Things are always changing in this business," Opdenkelder observes. "Our in-plant ink system makes it easier to keep up with customer requirements as well as our industry in general. And INX is on-call anytime, in addition to routine visits, to provide special insights and assistance."
Noting that many Stanpac customers package food, Opdenkelder anticipates that, sooner or later, low migration inks may come into play. "Polycoated paperboard and coatings provide acceptable barriers for current applications," he says. "But our people are keeping up with these issues and looking into options. When it's time to add low migration inks to our repertoire, I'm sure INX will help us find the right answers, and cost-effective in-house color prep will be part of the equation. There is no one-fits-all answer for in-plant operations, as we've seen within our own company. INX offers a variety of options in terms of equipment, software and startup as well as ongoing assistance, plus, of course, whatever inks you need. They were really helpful in determining exactly what the right fit for us would be."
Companies in this article