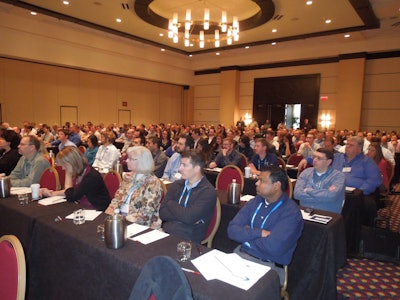 Packaging engineers and sterilization experts need to work more closely together to meet the needs of medical device manufacturers bringing more complicated products to market, to prevent "gross" packaging failures, and to meet global regulatory issues.
At HealthPack 2013 in Louisville, Joyce Hansen, vp of sterile process technology, Johnson & Johnson, said in her March 13 keynote address that packaging engineers (affectionately referred to as "box heads" by some) and sterilization pros (so-called "bug checkers") must get on the same page to meet what she said are key "future challenges as a healthcare industry."
Hansen said that there is a "changing landscape in the healthcare industry." One major change is the increase in more complex products. These, she noted, include 1) combination products, such as the pairing of a delivery device and a pharmaceutical; 2) the growth of kits, and larger products made up of more items connected together to reduce the amount of manipulation and handling required by healthcare pros; and 3) more microbiologic-centric products such as skin tissues.
More complex products mean packaging/sterilization pros must consider more complex material structures, and understand that materials and products are likely to be more sensitive to sterilization. "We need to consider what we can do other than use traditional terminal sterilization methods," she said.
Another part of the changing healthcare landscape, said Hansen, is that "regulatory compliance will change." That will enhance the need for more consistent processes across the corporation, be it in manufacturing, sanitation, and/or packaging. With more focus on global supply chains, there will be greater worldwide regulatory compliance expectations. She said having global standards, such as ISO standards, give the healthcare community an advantage by lessening global differences, although regulatory interpretations vary around the world.
Reduced technical expertise; recalls
The global healthcare landscape will be impacted by "a reduced pool of technical population—fewer in-house personnel who know and understand sterilization," she noted. Part of this has to do with aging and retiring sterilization experts, and part from companies that have turned more frequently to outsourcing this function.
Hansen said there is an incoming group of younger people who will get into the area of package sterilization, but developing the necessary on-the-job training and expertise could take 15 to 20 years. "You can't go to school to learn this," she said. "You go into microbiology, engineering, physics, etcetera, but you can't get a degree in sterilization. Globally there's also a limited pool of talent."
Hansen said that product expansion in developing countries further exacerbates the need "to develop a global network of technical individuals. That is a huge challenge for the future."
An especially disturbing issue is recalls within the healthcare industry. Hansen said, "The largest source of sterility recalls [80% according to some sources] is packaging failures. From a sterilization standpoint, we need to learn how to reduce the number of packaging failures." She said packaging design has to match product complexity. Reasons for the packaging recalls stem from matters such as packaging processes that are not validated, inappropriate sealing, and supplier quality issues.
One of the validation complexities can occur when companies buy other firms, with inconsistent packaging and validation processes across the different companies.
The seemingly age-old issue of batch sizes for testing was again a part of the discussion. She asked, "What numbers provide confidence limits for sampling? How many batches of materials should be used? What sterilization stresses are placed on packaging? "
Hansen advised the HealthPack audience to consider testing packaging and product with the maximum stress exposure. "Don't think routine parameters, but extremes," she said. Also, companies must consider if it's necessary to test the product in the package, even though testing just the packaging is a simpler, less costly process.
Ultimately, to address the future state of healthcare, Hansen reiterated, "Sterility assurance and packaging professionals need to work together to make sure that the testing performed will provide a safe and effective package for our current and future products!"
Companies in this article