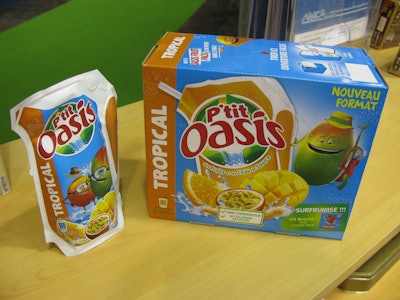 A fascinating new launch from Orangina/Schweppes/Suntory was on display at the booth of AMC2. That firm supplied the robotic pick-and-place system that was automatically cartoning single-serve pouches of aseptically filled juice drinks in Ecolean stand-up pouches. Ecolean's unique pouch, supplied pre-made on large rolls, is made with 30% calcium carbonate to significantly diminish its petroleum-based polymer content. (For more on Ecolean, go here.) It also has an unusual air-filled handle, which makes the pouch easy to grasp, and a film-wrapped straw attached. Consumers—and this packaging concept is aimed squarely at children—can drink from the straw or pour the contents into a cup. Orangina already has its first aseptic Ecolean pouch-filling system plus AMC2 robotic cartoner in operation at its Chateauneuf-de-Gadagne, France, plant, where stock buildup is underway prior to a big launch planned for December/January. A second Ecolean aseptic filler—along with the AMC2 robotic cartoner on display at Emballage—will soon be installed at Orangina's plant in Donnery, France. The cartoner features four delta-style pick and place robots from Schneider Electric. While aseptic Ecolean pouches are in the marketplace in places like China and Russia, this represents the first use of this intriguing technology in Europe. Ecolean's Lars-Eric Andersson says the firm will now target the U.S. with its novel packaging technology.
At the Mespack booth was an intriguiging Nestle brand of shelf stable pasta and sauce that's on store shelves in Russia. A Mespak horizontal form/fill/seal system first hot fills the food into a pouch format. Then an inline Mespack unit encloses the primary pack in a paperboard outer pack. The consumer microwaves the food and tears off a perforated bottom portion on the paperboard component. The end result is a pouch of hot pasta and sauce that can be eaten from what is essentially a bowl, thus eliminating any need for a separate container. Clearly a nice example of packaging that turns a meal into an on-the-go experience.
Elsewhere on display, this time at the Rovema booth, was Heinz ketchup in a standup pouch that featured a conveniently functional dispensing fitment on the corner. It appears the pouch is in the Russian market. Will the U.S. consumers ever be ready for ketchup in such a format?
On the machine controls front, Linmot had on display its Linmot P-10-70 linear motor. These motors are being used, in combination with B&R drives, on some Krones blow molders to actuate the stretch rods used in stretch blow molding. They replace air cylinders, which, said Linmot's Ernst Blumer, have a higher total cost of ownership because of the cost of the air compressor, the amount of maintenance they require, and the energy they consume. A study by Linmot concludes that where it takes 3,000 Euros to run a pneumatic cylinder for a year, the Linmot linear motor costs 100 Euros. The significantly smaller carbon footprint of the linear motor, adds Blumer, should position it well in the future.