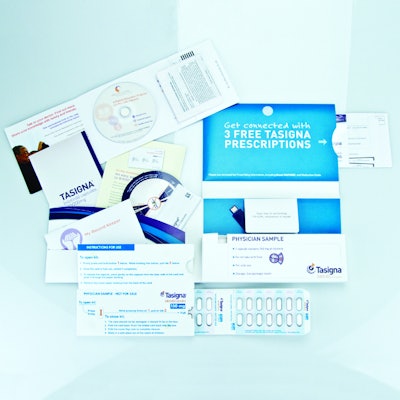 The Healthcare Compliance Packaging Council is accepting entries for its HCPC Compliance Package of the Year Awards Competition. Entries will be accepted through Feb. 15, 2013. The HCPC will recognize the Compliance Package of the Year Winners at its annual conference on adherence packaging, RxAdherence 2013, March 12th, 2013 at the Hamilton Park Hotel & Conference Center, Florham Park, NJ.
Each year the HCPC solicits entries from the pharmaceutical industry for consideration in its Compliance Package of the Year competition to determine pharmaceutical packages that are best designed to optimize patient adherence. While there is no fee or other monetary requirements to participate, qualifying packages for the Compliance Package of the Year category must: 1) be in a compliance-prompting format with at least one patient adherence assistance feature; 2) have been commercially available—anywhere in the world—during 2012; and 3) not require drug products to be repackaged by patients.
(Shown here is the 2011 Compliance Package of the Year: Novartis Pharmaceuticals' Tasigna 150/200mg Physician Sample carton design.)
The Awards for products available in the 2012 market year will also include an Innovative Design category for non-commercially available compliance-prompting packaging formats. Qualifying entries for the Innovative Design category must still have at least one feature for assisting patient adherence and also not require repackaging by consumers.
A panel of judges will review each qualifying package and—based on numerical scores awarded by the judges—one package will be named HCPC's 2012 Compliance Package of the Year and three other packages will be declared First Runner-Up, Second Runner-Up, and Most Innovative Design, based on the judges' scores. Designers of all four packages will be asked to designate scholarship funding provided by the HCPC. The winners will be on display at various industry exhibitions following RxAdherence 2013.
Winning entries will receive additional publicity within the Council's enewsletter, RxAdherence News, on the HCPC Web site, and through anticipated trade press coverage. All qualifying entries will be displayed at the HCPC booth during trade events and conferences over the next 12 months. Complete competition guidelines and an official entry form are available at the HCPC Web site, or by contacting the HCPC office at 804/338-5778.
HCPC's Compliance Package of the Year competition has recognized leading pharmaceutical compliance-prompting packaging since 1995.
The Healthcare Compliance Packaging Council is a not-for-profit trade association whose mission is to promote the greater use of compliance-prompting packaging to improve patient adherence and patient outcomes.
Companies in this article