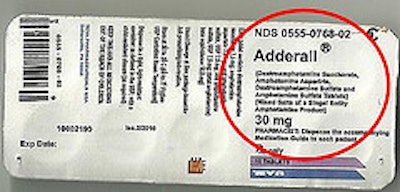 Two recent pharmaceutical packaging-related matters made news last week, one regarding counterfeiting, another filling and manufacturing.
A May 29 U.S. Food and Drug Administration report warned consumers about counterfeit versions of Teva Pharmaceutical's Adderall (shown), used to treat attention deficit hyperactivity disorders (ADHD). Saying the counterfeit versions "should be considered as unsafe, ineffective and potentially harmful," FDA noted Adderall 30-mg product may be counterfeit if: The product comes in a blister package; There are misspellings on the package: 'NDS' instead of 'NDC,' 'aspartrte' instead of 'aspartate,' and 'singel' instead of 'single'; the tablets are white in color, round in shape, and are smooth; and tablets have no markings on them.
Filling/manufacturing issues
Meanwhile, concern about the shortage of reportedly 15 different Hospira Carpuject prefilled cartridges may have helped prevent an FDA recall, despite possible overfills of prefilled cartridges, according to a May 28 report from in-Pharma Technologist.com.
The online article noted, "In a statement, the FDA said: 'Because pharmacists and other healthcare providers can visually identify the presence of an overfilled Carpuject prefilled cartridge, the FDA is recommending that these steps be taken at this time rather than a product recall, because a recall of the affected products listed above would result in an immediate shortage. FDA is still evaluating whether additional steps are necessary.'"
Hospira Inc.'s May 18 downloadable press release said, "Hospira announced today that it is notifying healthcare professionals regarding the potential for overfill in the prefilled Carpuject™ Syringe System, as some syringes may contain more medication than is stated on the label. The notice applies to Carpuject syringes and the 2-mL iSecure™ presentations of midazolam and ondansetron within expiration, which includes….15 drugs, all of which were manufactured between June 2010 and February 2012.
"Hospira has not received any reports of adverse events related to this issue to date. The company has identified the root cause to be due to a manufacturing issue in the filling equipment and has implemented corrective actions to prevent further occurrence.
"At this time, although it is believed that the potential for overfill occurrence (where the syringe contains more than the intended fill volume) is low, medication overfill has been reported. If administered to patients, overfilled syringes can lead to accidental overdose, which could have significant impact to patients and result in life-threatening consequences.
"Before administering the medications contained in the prefilled Carpuject syringes, healthcare providers should visually inspect the fill volume in the syringe and verify that it matches the labeled volume. On inspection, if an overfilled Carpuject syringe is detected, the unit should not be used. The clinician should report the incident to Hospira as a complaint, including specific product information and lot number, and return the product to Hospira for evaluation."