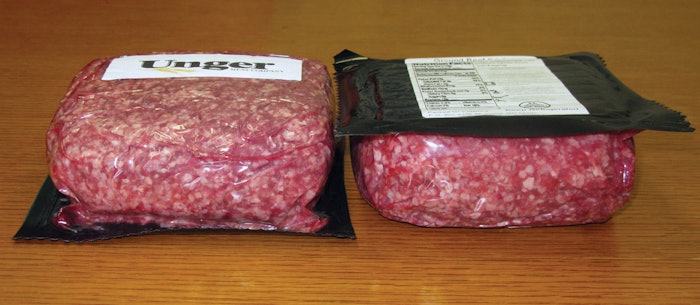 Breakthrough in fresh red meat
Winner of the Diamond award in this year's DuPont competition was FreshCase® technology from Curwood. This is not the first major award for FreshCase this year. It also won a Gold Award in the annual competition sponsored by the Flexible Packaging Association (see www.bit.ly/pwe00404).

FreshCase is described as the first-ever vacuum package for red meat that maintains the meat's appetizing color. Other methods of vacuum packaging red meat deprive the meat of oxygen and consequently cause the meat to darken to almost a purple color. And U.S. consumers don't like that color when it comes to fresh red meat.

The secret to FreshCase is that its meat-contact layer includes sodium nitrite. Enzymes in the meat come in contact with the sodium nitrite to produce nitric oxide gas, which, Curwood points out, is part of ordinary human cell activity. The nitric oxide gas combines with myoglobin in the meat to give the meat the fresh red color with which consumers are familiar.

FreshCase packaging also extends shelf life 10 times longer than store-wrapped meat. The combination of longer shelf life and more appetizing appearance promises to both reduce food waste and increase the availability of proteins in areas further away from food sources.

As an alternative for modified atmosphere (MAP) master packs and packages using EPS/PVC resin technology that dominate the case-ready meat segment, FreshCase enables 75% less markdowns/waste than store-wrapped meats. It produces less landfill waste and reduces packaging materials up to 75%, compared to other case-ready formats, thereby improving sustainability, according to Curwood.

We presented our FPA coverage of FreshCase partially through the perspective of Dallas-based Paty Meats (one of the first meat marketers to commercialize the technology) and a supermarket customer of theirs by the name of H.E.B. For our DuPont Awards coverage, we asked if another meat marketer might be willing to share a few thoughts about this award-winning film breakthrough. That meat marketer is Unger Meat Co. of Vadnais Heights, MN. Unger is shipping its vacuum packaged ground beef to Minnesota-based supermarket customer Coborn's.

"We saw FreshCase when it was being introduced at a trade show, and right away we liked how red it made the beef look," says Jeremy Turnquist, vice president of operations at Unger Meat. "We had tried vacuum packaging of fresh ground beef for the retail channel in the past, and it just didn't work because consumers don't want to see beef that is any other color than red."

Unger produces its FreshCase packages on a Multivac thermoform/seal machine. Prior to the arrival of FreshCase film, the Multivac was already in use at the plant for vacuum-packaged beef products that were being sold through the foodservice channel. With foodservice customers, the issue of color is not nearly as important as it is in the retail channel.

According to Turnquist, the Curwood material was a "drop-in" replacement for the materials that had been in use before. "We use the sodium nitrite component in both the forming web and the non-forming top web. "Both machine well on our Multivac, where our depth of draw is between one and two inches."

Thus far, Unger does only ground beef in the FreshCase format and only retail channels are involved. Refrigerated shelf life is 21 days, which Turnquist describes as "huge."

"It's an addition of seven days, which means a lot to the supermarket when it comes to managing inventory and reducing shrink and stock outs," says Turnquist.
Eco- and consumer-friendly aerosol dispenser uses compressed air
Innovative aerosol dispenser technology called AirOPack® from IPS Innovative Packaging Solutions AG, Switzerland, developed in a joint venture with Airolux AG, Switzerland, has earned a DuPont Gold Award. Designed to accommodate liquid, cream, gel, and foam products and to offer an alternative to metal aerosol containers, the strong, lightweight, all-PET-plastic, totally recyclable AirOPack incorporates a patented pressure control device that relies on air in place of more conventional hydrocarbon chemical propellants.

This pressurized dispenser packaging system consists of (1) a two-stage stretch blow-molded plastic container that can be conventionally filled, (2) an injection blow-molded compressed-air chamber and (3) a novel pressure control device. The components are assembled using laser welding technology.

You'll find fuller coverage of this award-winning package—including its commercial use by SuperMax, a Dubai-based global leader in shaving razors and gels for men and women—in a future edition of Packaging World.
Breakthrough in dividers is 'ingenious'
Winning a Gold Award for excellence in innovation and cost reduction was a new breed of divider from ITB. It's used primarily in the auto industry to ship car components from the plants where they're made to the assembly plant where all the car parts are assembled into a finished automobile.

Among the early users of this protective packaging component is the automotive group of Johnson Controls in Holland, MI. Picture, for example, an arm rest made by Johnson Controls and shipped in large reusable bins to Ford or General Motors assembly plant around the country. Placed inside the reusable bin is a divider that protects individual arm rests by keeping them separated and cushioned from one another. Until now, these dividers have usually been made of die-cut corrugated. ITB's dividers are not. Some are reusable and are made, typically, of polyester. But we'll focus here on the ones that ITB calls "expendable"—that is, they're used once and then discarded, just like the die-cut corrugated dividers they're designed to replace.

ITB's expendable dividers are made on an auto assembly machine manufactured to ITB's specifications by Pinnacle Converting. Fed into this machine is a 106-inch-wide roll of 26# kraft paper. Also fed into the Pinnacle machine is an electronic job order produced by ITB through proprietary software. The Pinnacle machine cuts the kraft into pieces as specified in the electronic job order and assembles them with glue into a piece that, when opened up, fits inside a reusable bin (see Photo A). But until the divider is opened up, it's collapsed and ships perfectly flat (see Photo B). Worth pointing out is that what you see in Photo B are five conventional dividers made of corrugated sitting on top of 90 equivalent dividers made by ITB.

Obviously, compared to dividers made of die-cut corrugated, it costs considerably less to ship a load of collapsed ITB dividers to the Ford suppliers that use them. On top of that, numerous tests have shown that the ITB dividers, which have a lot of give in them, provide better protection than relatively rigid die-cut corrugated because of their inherent flexibility. As if all that were not enough, they cost about 20% less than their conventional die-cut corrugated counterparts.

David Colclough, a buyer at auto parts maker Johnson Controls, confirms the sustainability benefits, cost savings, and protective functionality that the ITB divider affords. He calls the divider "ingenious." He also notes that the packaging being produced by ITB today was engineered specifically to meet the shipping needs of the automotive industry. He predicts that ITB—just one year old and employing just 15 people—will expand at some point in time with Consumer Packaged Goods companies in mind, where much higher speeds of manufacturing and far greater volumes are involved.
Disruptive transport and retail display system
THE CUBE® transport packaging system from Smart Packaging Systems (SPS) has been recognized by DuPont for Excellence in Innovation and Sustainability for its capacity to provide an environmentally preferable and retail-ready option to shrink-wrapped pallets and wooden crates for retail and industrial applications, respectively.

THE CUBE consists of an open-architecture frame made from a special lamination of recycled and virgin fibers and humidity-resistant glue in a standard pallet dimension of 40 x 48 in. and an adjustable height from 41 to 85 in. (Custom sizes are also available.) The paperboard frame is connected at the corners by plastic components available in a range of plastics, including polypropylene and acrylonitrile butadiene styrene (ABS), depending upon the application. Straps made from recycled PET run diagonally across each open panel. THE CUBE can be constructed with or without a pallet underneath.

According to Luis Felipe Rego, CEO, founder, and chairman of SPS, THE CUBE was developed in response to Walmart's 2004 challenge to suppliers to design packaging capable of improving product handling throughout the logistics supply chain while reducing costs, cutting excessive secondary and tertiary packaging, saving time and labor, increasing profits per square foot of sales space, reducing product damage, and exhibiting sustainability in terms of material, energy, sourcing, etc. The solution also needed to pass ISTA® 6-SAMSCLUB protocol simulation testing.

Representing a "Ready to Ship, Ready to Display, and Ready to Sell" solution, THE CUBE meets all these requirements, says Rego. "THE CUBE is the only packaging solution designed to go from product pack-out at the end of a manufacturer's production line, into distribution, be it national or international, in any mode of transportation, straight to the retailer sales floor, eliminating layers of costs," he notes.

Among the retail examples illustrated by SPS in its DuPont competition entry form were brands that included Welch's, Gatorade, Listerine, VOSS, and Arm & Hammer. As products are packed directly onto THE CUBE without corrugated cases, at retail the structure becomes a sturdy, self-selling, open-window merchandising display-shoppable on four sides-that requires no labor to unpack at point of sale. According to SPS, THE CUBE has proven to increase retail sales by at least 30%. In the entry form, Ari Mandelbaum, marketing brand manager for Colgate-Palmolive Mexico, is quoted as saying that his company "doubled its historic toothpaste sales volume on a new product launch by using THE CUBE system."

Eliminating corrugated cartons, as well as the pallet, in some cases, is also estimated to yield a cost savings to brand manufacturers from 20% to 40%. SPS adds that in transit, THE CUBE can be stacked up to four-high, which allows the possible doubling of the number of pallets on a truck from 24 to 48, "slashing transportation costs."

Industrial examples cited by SPS in its entry form ranged from applications as diverse as Yamaha motorcycles, metal filing cabinets, and potted plants. In industrial applications, THE CUBE Open Architecture Crating System replaces wooden crates, which are labor- and cost-intensive to construct. The open structure also allows product visibility in-transit, resulting in more careful handling.

Says SPS, "THE CUBE is helping manufacturers reduce considerably the costs in terms of product damage and over-packaging their products, such as solar panels or wind turbines, even air conditioners, by 20 percent, making these new technologies more accessible to more people."

At end of life, THE CUBE can be reused, composted, or incinerated, extending its sustainability advantages.
Tea packaging closes the loop in Brazil
Honored for Excellence in Sustainability and Waste Reduction, the Ciclo Verde Taeq® reverse logistics system from Brazilian retailer Grupo Pãu de Açúcar's (GPA) Taeq private-label brand addresses the three pillars—social, economic, and environmental—of sustainability. In 2001, GPA established an on-site materials collection system for consumers at its more than 180 retail stores. Since then, the bin disposal system has collected more than 35,000 tons of recyclable materials, including paper, plastic, metal, glass, and cooking oil.

After collection, materials are donated to local cooperatives, made up of 660 low-income families that separate the recyclables by their characteristics and sell them to material manufacturers. The system provides these families with an alternative source of income, fulfilling both the social and economic pillars of sustainable development.

In 2009, GPA's Taeq brand, which was "created to offer a complete wellness solution," according to GPA packaging development manager Aparecideo Borghi, crafted a program to take advantage of the materials collection system for its own retail packaging: Ciclo Verde Taeq, or Green Cycle Taeq. Says Borghi, "The challenge was how to insert the recyclable material back into the production chain."

To build the reverse logistics system, Taeq partnered with Brazilian paperboard manufacturer Papirus, which purchases the recycled materials from the cooperatives to create packaging for the GPA private-label brand. According to Borghi, a large part of the process involved developing a traceability system to ensure that the paperboard manufactured for Taeq actually originates from the cooperatives and has been separated properly. For this Taeq "created a control using documentation related to governmental taxes," or an audit system, Borghi says.

As part of the process, Taeq's packaging team specifies the recycled paperboard material for new package designs. The printing company converting Taeq's packaging then acquires the recycled packaging material from Papirus.

Since 2010, more than 600 tons of cellulosic material has been collected, diverting the material from landfill and supporting sustainability's environmental pillar. The material has been used for 32 new Taeq brand products, the most recent a paperboard carton for its Organic White Tea, introduced in November 2011. The tea carton is made from 100% recycled materials: 50% pre-consumer industrial scrap, and 50% post-consumer, from materials collected by the cooperatives. Borghi notes that packaging made from the recycled materials has a color "tending toward Kraft paper," while packaging not made from the material has a coated white appearance. As far as cost, he says there has been no increase in price for the use of the recycled materials, reinforcing the economic pillar of sustainability.

Borghi notes that another social aspect of the program has been the consumer education campaign, which consists of on-pack messaging, point-of-purchase advertising, and an in-store video. Says Borghi, "The launching campaign was designed for consumers to make clear that their participation in recycling is more important than they think and that everyone can contribute with more sustainable habits."
Goldfish Bread package makes a splash
Goldfish-shaped bread without crust that offers fiber, vitamins, and minerals deserves kudos. But take that innovative product and put it in revamped packaging that leaves traditional plastic-bagged bread in its wake, and it deserves an award. Judges in the 2012 DuPont Awards competition apparently agreed, giving the reclosable package for Pepperidge Farm Goldfish Sandwich Bread a Gold Award.

The current package is actually a new and improved version of the format used originally: a two-compartment, rigid, plastic tray inside a perfectly conventional bread bag with a plastic clip closure. That package, launched in September 2011, succeeded in setting Pepperidge Farm apart from the competition in a competitive category. But the new package, with bright reverse-printed graphics, reduces cost and has a lower carbon footprint. Produced on a Series 3000 horizontal flow-wrap machine from Ilapak, the side-gussetted package is made from a 70-ga lamination of oriented polypropylene/ink/adhesive/1.25-mil low-density polyethylene sealant. CP Flexible Packaging assembles this lamination for the Goldfish Bread packs, while Printpack is the converter for the Deli Flat packs, which have also gone to this award-winning format. The other key contribution to the package is a reseal feature supplied by Sealstrip Corp.. An acrylic adhesive tape system, it's applied in line on the Ilapak horizontal flow wrapper.
The new package, holding 16 slices with a combined net weight of 12 oz, allows retailers to merchandise individual units either lying down or standing up. The firmness of the new package allows for improved merchandising, highlights the graphics, and creates a billboard effect that has outstanding shelf impact. Sales distribution associates and retailers save time on shelf maintenance as they rotate stock because they can now see at a glance expired "sell buy" packages through color-coded tear tape.

Based on consumer, key customer, and internal sales/marketing feedback, the new package is a success. Pepperidge Farm says eliminating the two-compartment tray and plastic clip closure resulted in $500M to $750M of material savings and an additional $500M to $700M in labor savings. And less space is required on inbound trucks, providing a cost savings on freight. Less storage space is required at the packaging facility, providing space savings on site.

Additional equipment and labor savings come from increased speeds and reduced labor on the packaging line. The new package has a smaller footprint than the original, resulting in an additional 17% savings on outbound freight. Although an investment had to be made in a new horizontal flow-wrap machine, the return on investment is significant with a favorable payback. 
24rd DuPont Awards for packaging Innovation--Silver Winners
The following are the 2012 DuPont Silver Award winners—Innovation.
Kraft YES Pack
Kraft Foods; Exopack; Foth Production Solutions, LLC; PE International; The Food Group; Smart Bottle, Inc.—USA
Ultra-Freshness Preservation Freezing System Using High "Electric Potential" and Electro Conductive Packaging
Mutsumi Chemical Industry Co, Ltd; SUN Electric Co., Ltd.; Enshu-Kasei Co. Ltd.—Japan
Short Neck Jar for Confy by Kraft Foods
Cadbury India Limited—India
Project Galvanise for Ponds Talcum Power
Hindustan Unilever, Ltd.—India
Formpack Dessiflex™ Plus
Amcor Flexibles Singen GmbH—Germany
Sulhwasoo Dahamsul cream jar
AmorePacific—Korea
Weight Watchers® Smart Ones® "Eco-Friendly Tray" for Frozen Entrees H.J. Heinz; Pactiv Foodservice—Food Packaging—USA
Tide PODS Liquid Unit Dose Laundry Detergent
The Procter and Gamble Co. and MonoSol; Plastipak Holdings Inc.—USA
Laminate with Hot Foil Stamping, Matte Surface and High-Definition Flexo Print
Mondi Coatings & Consumer Packaging GmbH—Austria
InCycle® CPET Tray and Cold Party Cup
MicroGREEN Polymers, Inc.—USA
Companies in this article