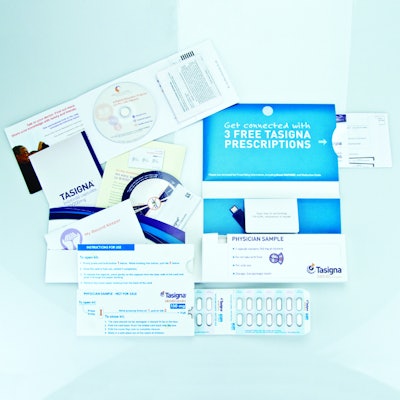 The Novartis Tasigna Starter Kit, a comprehensive introductory pack for adult patients initiating therapy for treatment of Ph+ Chronic Myelogenous Leukemia, was awarded the 2011 Compliance Package of the year by the Healthcare Compliance Packaging Council.
Submitted by Anderson Packaging, Inc. on behalf of Novartis Pharmaceuticals Corp., the winning package was announced at RxAdherence 2012 in NJ. The package features a compliance-prompting, calendarized unit-dose pack with 28 capsules comprising seven days of therapy, utilizing the MWV Dosepak® child-resistant design.
Concise graphics guide the patient to the dosing regimen. Outer graphics highlight the opening instructions for the CR features incorporated into the pack design. Supplementing the therapy, the Novartis Tasigna Starter Kit contains many supporting elements to assist patients, including an instructional card guiding patients to co-pay assistance programs, a patient education program DVD, a USB device containing education materials, and disease state education. The pack also contains a record keeper to track medications, as well as a wheel for patients to determine the appropriate intervals for product dosing and consumption of food. Information and guidance is included to enable effective reimbursement for script fills. The pack has a patient medication guide brochure. All of this information is housed in an innovative carton design.
Six competition judges were impressed by and commented on the comprehensiveness of the package, particularly the food wheel guide that was provided. One stated, "This package is one of the most comprehensive I've ever seen. While effectively delivering the product (and protecting it), the kit provides detailed medication guides, patient support, financial support, and information for prescribers."
Another said, "Pleasing graphics, well-written guidance materials convey a caring tone to the patient, without minimizing the risks of the therapy. Extraordinary attention seems to have been dedicated to this package."
The Compliance Package of the Year winner, the First Runner-up, and the Innovative Design winner will be asked to designate scholarship funds to a university-level packaging school focused on the pharmaceutical industry.
The Healthcare Compliance Packaging Council is a not-for-profit trade association whose mission is to promote the greater use of compliance-prompting packaging to improve patient adherence and patient outcomes.