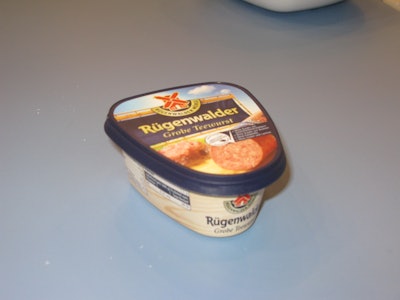 Tooling for the in-mold labels was provided by Marbach. The new package, which holds 125 g and is sold in the refrigerated chain, is capable of delivering much more on-shelf consumer appeal. This was the key reason the switch was made. The IML-labeled container is injection-molded by Weidenhammer.
We spotted the Rugenwalde package at NPE 2012, where IML was talked about a lot (more on NPE in a moment). Two other examples of IML were equally notable.
Being injection-molded at the CBW Automation booth was a 4-mL PP syringe (shown here) that was in-mold labeled 16-up with a cycle time of 7.75 seconds. The label material was roll-fed, while most IML applications rely on cut, stacked, and magazine-fed labels. Cost savings are among the advantages of the roll-fed approach, and some manufacturing efficiencies are gained, too. Printed on the label was the number of the injection molding cavity on which the syringe was made as well as a second code saying "NPE." The NPE code was merely for demo purposes, but in a real application it could be a track-and-trace mark. Both codes, invisible until placed under UV light, are designed to be part of an anticounterfeiting strategy. All contributing to this notable example of IML technology were the following:
CBW: automation (robotic pick and place of labels, finished syringes)
TechMold: Molds
Mold Masters: Hot runner
Inland: Labels
Milacron: Injection molding machine
PolyOne: resin
What CBW and its partners showed is significant because injection molding and IML on such a tiny cylinder 16-up with a cycle time of under 8 seconds was deemed impossible just a few years ago. Says CBW business manager James Swim, "Our engineers salivate at the very sound of the word 'impossible.'"
The other IML technology on display was from Ilsemann Automation, which showed a new technology that would make it possible to sandwich aluminum foil between two layers of PP. A "special" foil "preform" is placed on the core of the injection molding tool and PP is then injected around it. Then in a second cavity PP is injected into the interior of the container. The resulting barrier container is retortable and is viewed as a replacement for steel and aluminum alternatives now used in food packaging sectors such as tuna. The fact that the plastic containers are nestable could deliver a lot of cost benefits from a transportation and logistics perspective. According to sales director Daniel Kapp, IML is widespread in Europe and is only now expanding in the U.S. CPG companies like the messaging and branding opportunities it offers. Kapp also believes barrier IML is the next big leap that will emerge in this space.
Speaking of big leaps, Krones was showing at NPE a model of its recycling process, called Super-Clean-PET-Flake Process. In cooperation with Husky, the Canada-based leader in injection molding machines that make the preforms from which beverage bottles are blown, Krones is in the final stages of commercializing a way of feeding food-grade 100% post-consumer flake directly into the injection molding machine without having to first make pellets. The savings in energy and cost—not to mention a reduction of work-in-process time—will be significant, to say the least. A letter of non-objection from FDA is already in hand, notes Krones.
On the materials side, Dow and ExxonMobil both see huge opportunities in the packaging sector. Dow was at NPE touting its ELITE AT PE resin, a proprietary and patent-pending post-metallocene technology built on Dow's INSITE technology. Suitable for producing films that run on vertical form/fill/seal machines, these resins can be processed at higher throughputs. They also possess a molecular structure that offers excellent toughness, thereby enabling the use of fewer resources through downgauging. Dow also featured improvements in its SEALUTION 210 Peel Polymer for easy-open packages; greater clarity in the finished material lets manufacturers produce packaging with enhanced aesthetics and consumer appeal. Dow also announced the commissioning of Cloeren's innovative NanoLayer Feedblock technology at Dow's Film Application Development Center.
At ExxonMobil the conversation centered on recent advances in that firm's Exceed and Enable resins, its Vistamaxx propylene-based elastomers, and its ExxonMobil polypropylene resins. Stronger yet thinner films are among the key goals being set and met as these technology advances unfold. With a new plant being built in Singapore, ExxonMobil clearly aims to pursue markets aggressively on a global basis. When asked if biopolymers are on the ExxonMobil radar screen, John Verity, vice president polyolefins, indicated that current work being done with algae is being closely watched. "Biopolymer materials will indeed have a place in the marketplace of the future," said Verity. But even 10 or 20 years out, he added, they would still likely represent only a small portion of the plastics that are available.
Some of the biggest news at NPE 2012, sponsored by the Society of the Plastics Industry, was that the event was held outside of Chicago for the first time in decades. The new venue, the Orange County Convention Center in Orlando, FL, appeared to be a big success, as some 1,900 exhibitors showed their latest innovations, more than in 2006 or 2009. 40% of the exhibitors were firms from outside the U.S., and of those international exhibitors, 41% were from China. Attendee registrations were up 30% over 2009.
Finally, the package judged most innovative in SPI's International Plastics Design Competition at NPE 2012 was the 1-Seal container and lid product molded by Arta Plast from material supplied by Spartech Corp. for brand owner The Better Bean Company (shown here). Spartech has the exclusive license to market/sell 1-Seal in the U.S. market. Machinery for the project was supplied by Packline West.