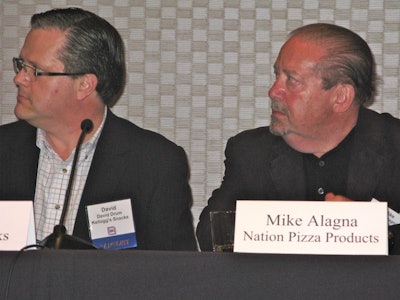 That was a key takeaway from the March 21 Pack Expo International Press Event at the Intercontinental Chicago O'Hare.
As a result of the FSMA, "Big changes are coming," said food scientist and microbiologist Jeffrey Barach. "But we see opportunities for suppliers to work with CPG companies in such a way that a seamless technical community comes about." That way, said Barach, no matter how things shake out once FMSA implementation and enforcement rolls around, the food manufacturing community will be much better prepared to adjust to all the changes that are sure to come.
Also addressing the audience of packaging journalists was David Drum, senior food safety engineer at Kellogg's, and Mike Alagna, COO of Nation Pizza & Foods. Drum and colleagues at Kellogg's are dealing with FMSA by breaking it down into two categories: current assets and new installations. "We're designing out potential hazards by looking at HACCP-based risk assessments," said Drum. He also recommended that food manufacturers look to GMA's Web site for a facilities checklist that is a good tool in bracing for FMSA. And for equipment-related checklists, look to AMI and USDA Web sites in addition to GMA, said Drum.
Alagna of Nation Pizza & Foods described how processing and packaging machinery has already begun to change in ways that will help companies like his cope with FMSA. "Ease of cleaning is being designed into the equipment," said Alagna. "Things like clean-out holes are more numerous, and tension releases are becoming common to simplify removal of a conveyor belt for sanitation. Easier-to-clean UHMW pieces are being used instead of metal." He applauded the ongoing trend toward a much more open design in food manufacturing and packaging equipment, reminding the audience that "If you can't see it, how do you clean it?"
Concluding remarks at the event came from Walt Staehle of Siemens Energy and Automation. In addressing workforce development issues, he made the following observations:
• People development and change management are the keys to tackling technology.
• Technology is not the answer, it's an enabler.
• Technology should reduce complexity.
• The key participant in the workforce of the future will be someone whose job title is something like Mechanic-Electrician-Controls Engineer-Computer Whiz-Other.
Opening remarks at the press event from Packaging Machinery Manufacturers Institute President Chuck Yuska confirmed what many have suspected ever since Pack Expo Las Vegas set records last Fall: Pack Expo International, October 28-31 at Chicago's McCormick Place, will be a very strong show. About 1,800 exhibitors are expected to occupy more than a million square feet. The show will continue to do what Pack Expo in all its iterations has always aimed to do, said Yuska. "It will help end users discover new technologies to strengthen their brands, improve manufacturing efficiencies, and achieve sustainability goals."

Companies in this article