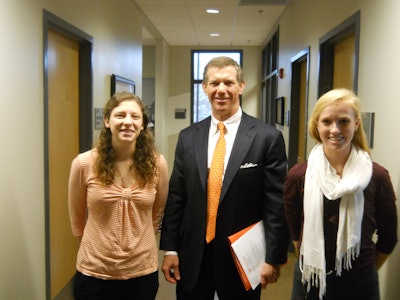 Based on Printpack's participation in Packaging World's 2011 Leadership in Packaging (LIP) program and their outstanding effort to promote voter participation, they were given the honor of choosing the packaging school to receive this year's scholarship.
Clemson University's Food, Nutrition and Packaging Sciences (FNPS) department is pleased to announce the $2,500 Future Leaders in Packaging scholarship will be awarded to two undergraduate seniors, Grace Cook and Mackenzie Lussier. The criteria for selection by the FNPS committee included GPA, leadership and participation in activities in the classroom and off campus; the quality of their essay and they both received an extra point for participating in Clemson's BS/MS program. Says Anthony Pometto III, Ph.D., professor and interim chair of Clemson's FNPS department, "All our packaging science students at Clemson University are outstanding, but Grace and Mackenzie represent the best of the best. They are dedicated undergraduate students with a strong desire to become professionals in the packaging industry."
"Packaging World has been a long time supporter of packaging education, via various association initiatives and editorially," says Packaging World Publisher Joe Angel. "We're very excited to add this annual scholarship to our Leadership in Packaging program, and honored to co-sponsor the 2012 award with Printpack. Both Grace and Mackenzie are exemplary students and we wish them both success in their packaging careers."
The Future Leaders in Packaging Scholarship has been developed in conjunction with Packaging World's Leadership in Packaging program, a community-based print and online program that enables suppliers to promote their innovation and commitment to the packaging community. In 2012, Packaging World will again award a $2,500 Future Leaders in Packaging scholarship to a packaging school selected by a LIP participant. You can help by casting your vote for your leading supplier at www.packworld.com/leadership. For more information on Clemson's Packaging Science program, contact Dr. Anthony Pometto at [email protected] or http://bit.ly/xJA33a.

Companies in this article