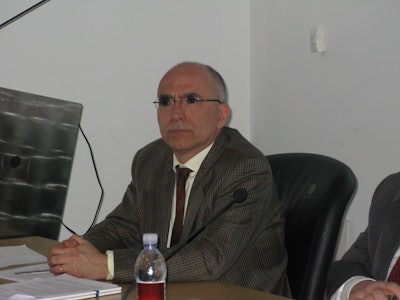 That was the key message delivered yesterday at a Pharmintech Press Conference held at Ipack-Ima in Milan. Pharmintech, of course, is the highly focused pharma-only exhibition held in Bologna, Italy, every three years since 2004.
Master of Ceremonies at the February 29 press conference in Milan was Guido Corbella, show organizer of Ipack-Ima and Pharmintech, who opened the proceedings with some remarks about the still new but growing Pharmintech. The only way to make such a niche trade show succeed, said Corbella, is to have a strong link with the business community that occupies that niche. "Pharmintech has succeeded in forging that link," said Corbella.
Later in the conference, Corbella introduced Giampaolo Vitali (shown here) from the Institute for Economic Research on Firms and Growth. Vitali has surveyed the Italian pharmaceutical supply chain for the past few years to produce an economic analysis. Highlights of the most recent survey:
• Nearly 80% of respondents describe employment numbers at their firms as stable in the first half of 2012, and about 15% expect to add personnel.
• Regarding export expectations, about 31% of respondents expect to see an increase while a significantly smaller number, 12%, are bracing for a dip.
• 48% of respondents expect sales volumes in the first half of 2012 to stay stable, while 36% expect to see an increase and only 15% predict a decrease.
Vitali's point was that despite macroeconomic indicators that are uniformly dismal, the Italian pharmaceutical supply chain remains generally positive because of the following structural variables:
• It is uniquely entrepreneurial in nature
• It shows a remarkable propensity for innovation and internationalization
• Its key performance indicators are consistently above the average of other production industries.
For these and other reasons, the organizers of Pharmintech, which runs April 17-19 in Bologna, are optimistic about the show's success.