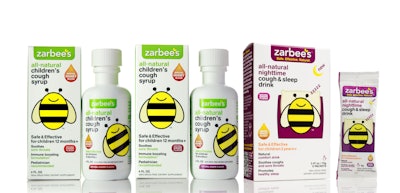 Zarbee's, a maker of children's medications, recently cited research by the University of Michigan C.S. Mott Children's Hospital noting that over-the-counter cough-and-cold medicines have been linked to cases of poisoning or death in hundreds of children 2 years of age and younger. In addition, complications from cough medication use are estimated to send thousands of children under the age of 11 to emergency rooms every year.
The hospital research points to the U.S. Food & Drug Administration's 2008 issuance of a Public Health Advisory formally recommending that drug-based OTC cough-and-cold products not be used in infants and children under the age of 2 "because serious and potentially life-threatening side effects can occur."
Zarbee's said that as a result of the warnings, the Consumer Healthcare Products Assn. (CHPA), an association that represents most of the makers of children's OTC cough-and-cold medicines, announced that its members were voluntarily changing their product labels to say "do not use" in children under 4 years of age and introducing child-resistant packaging and new measuring devices.
Concerned about the drug Dextromethorphan used in some cough-and-cold medications, Dr. Zak Zarbock, a Utah-based pediatrician who spoke at an FDA advisory hearing about the dangers of OTC cough-and-cold medications, he developed Zarbee's, a line of all-natural, gluten-free cough-and-cold remedies (shown in photo) that contain no Dextromethorphan or other drugs, no alcohol or dyes, and carry no risk of overdose or side effects. Zarbee's makes a cough syrup with a special blend of honeys fortified with immune-boosting vitamins that are safe for children, as well as pregnant and nursing women and a nighttime drink that soothes coughs and promotes healthy sleep. Zarbee's is available in 100% natural Grape, Cherry and Lemon flavors. No details about the packaging were provided at this time.
A Zarbee's press release recommended that caregivers follow FDA cough-and-cold recommendations. The following recommendations relate to packaging of the medications:
• Only use the measuring spoons or cups that come with the medicine or those made especially for measuring drugs. Do not use common household spoons to measure medicines for children since household spoons come in different sizes and are not meant for measuring medicines.
• Carefully follow the directions on the label. These directions tell you how much medicine to give and how often you can give it.
• Check the "active ingredients" section of the label. This will help you understand what "active ingredients" are in the medicine and what symptoms each active ingredient is intended to treat. Cough-and-cold medicines often have more than one "active ingredient" (such as an antihistamine, a decongestant, a cough suppressant, an expectorant or a pain reliever/fever reducer).
• Choose OTC cough and cold medicines with childproof safety caps, when available, and store the medicines out of the reach of children.
Another seemingly obvious tip: Check the expiration date to make sure the medicine is not out of date. The FDA recently posted an article, "Don't be tempted to use expired medications," that also links to a page about proper disposal of unused medicine.