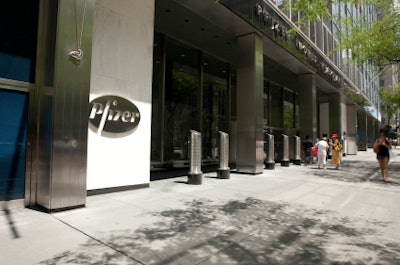 With the patent now expired on cholesterol-fighting drug Lipitor, Pfizer isn't quietly stepping out of the way for the product's generic rivals. Instead, it is offering its own generic version at competitive prices. The Chicago Tribune reported Nov. 30, "Lipitor has chalked up more than $130 billion in sales during its 14 years on the market and many investors doubt another drug of its magnitude is likely any time soon." The report said, "Watson Pharmaceuticals Inc. will sell an 'authorized generic' form of Lipitor made by Pfizer, with an estimated 70 percent of its sales going to Pfizer. Watson said early on Wednesday it has begun shipping the pills, calling it the 'largest generic product launch in U.S. history.'"
"Pfizer is completing relationships and shoring up discounts—like a reduced co-payment of $4 a month versus the $10 customers would pay for many generic prescriptions," reported CNBC.com.
Also on Nov. 30, the U.S. FDA approved the first generic version of Lipitor, granting Ranbaxy Laboratories Ltd. approval to make generic atorvastatin calcium tablets in 10-, 20-, 40-, and 80-mg strengths. The agency says drugs will be made by Ohm Laboratories in New Brunswick, NJ. FDA's Web site press release notes, "Generic drugs approved by FDA have the same high quality and strength as brand-name drugs. The generic manufacturing and packaging sites must pass the same quality standards as those of brand-name drugs."
An Associated Press story reported in the Milwaukee Journal-Sentinel noted the drug "still brings in nearly $11 billion a year, about a sixth of Pfizer's revenue." The article added, "Pfizer's strategy could become the new norm as most other drug makers also face generic competition to top-selling medicines and haven't been coming up with replacements."
It will be interesting to keep an eye on other pharmaceutical makers to see if they take a similar approach to other drugs going off patent. Also worth watching is to see if package design fits into the equation, either on packages from the original drug manufacturer, or on those from makers of generic rivals.