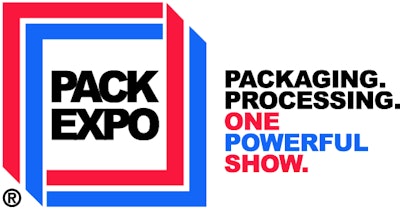 Trade Show Executive magazine ranks expositions in the country based on net square footage (nsf) of paid exhibit space. In 2010 Pack Expo International recorded an impressive 1,055,081 nsf; 44,294 visitors; and 1,835 exhibitors (7 percent more than the previous edition, in 2008). Based on these figures, Pack Expo International was the third-largest trade show in the United States in 2010, following only the 2010 International Consumer Electronics Show (CES) (1.4 million nsf) and IMTS — the International Manufacturing Technology Show 2010 (1.1 million nsf).
"We're very pleased to be listed in the Trade Show Executive Gold 100," says Charles D. Yuska, president & CEO, PMMI. "Pack Expo International 2010 launched our expansion into processing technologies, and as we so clearly saw there and at Pack Expo Las Vegas 2011 this fall, it resonated with attendees and exhibitors. Then, as now, our goal was to give processing and packaging professionals an experience that anticipates and meets their professional needs."
The Gold 100 shows are the premier events in their sectors for launching the exciting new products that will carry their industries forward in this decade and beyond. According to Trade Show Executive magazine, the Gold 100 shows accounted for more than 39 million nsf of exhibit space and drew 3.3 million attendees to their respective host cities, pumping millions of dollars into the local economies.
"The Center for Exhibition Industry Research reports more than 13,000 trade shows take place in the United States in any given year. To be among the top 100 is quite an achievement, and we're quite grateful to the many exhibitors and attendees who got us there," says Yuska.