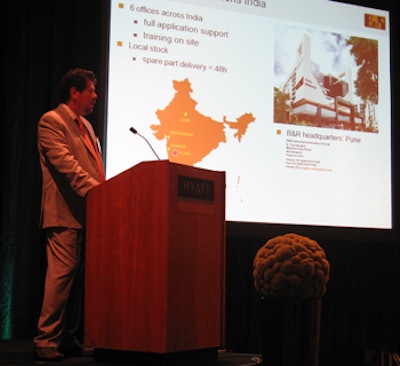 If you attended Xiaoguang Hou's presentation at the annual meeting last September, you understand why we are sponsoring this particular MarketTrends conference.
Because China is General Motors' biggest market for cars.
China is Coca-Cola's number two market.
China, according to Freedonia research, will constitute 41% of the world's packaging market by 2014 as North America shrinks accordingly.
So, it is not a matter of should we explore partnerships with Asian OEMs. Should we establish a sales and service presence in Asia. In India. In Brazil.
The discussion should only be about how. When. And with whom.
That's why we operate 9 locations in China and 3 in India. Why we've been there over 15 years already. It's why we are now investing heavily in Korea and Vietnam as they grow.
We're an Austrian company. Austria has a population of not even 8 million. There are 9.7 million people alone in the Chicago metropolitan region. We have no choice but to export, and necessity may be a tough mother, but she has made us stronger.
Without an export focus, our company could not have grown by 15 to 20% annually -- to half a billion dollars in sales, with 1 billion in our reach. And without that kind of growth and presence, we would not be a contender for your business.
That is why we formed our global Packaging Solutions group, first with an organization in North America, then in Europe, now in China and India.
It's why we are actively working inside PMMI to make connections for our customers, to help them establish business relationships in their target countries. We want to help our customers minimize their risk and achieve a faster return on their export investment.
It's why we've brought openSAFETY to multinationals seeking a single safety network standard across their plants worldwide. Why we actively participate in OMAC and the PackML World Tour.
Today I would like to invite those of you going to interpack next week to attend a special event we're holding on the show's opening evening. It's called Interact at Interpack.
It will feature an enlightening look at the future of packaging, with automation visionaries from Nestlé, Pactiv and a renowned packaging consultancy, along with lots of networking with packagers and fellow export-minded machinery executives. If you join us, bring lots of business cards.
There are many ways that an entrepreneurial automation partner can help you launch or expand your export business.
Through introductions to compatible OEM partners and end users.
With global support agreements for your multinational customers, guaranteeing our service levels to their plants, to put you both at ease.
An established, local technical support infrastructure.
And with an installed based of machinery in key markets like China that will give your customers confidence in your choice of export controls platform.
Where do you want to go? We'll be there with you.
A few of you here today have already taken advantage of these global resources. I hope you all will in time. Thank you and enjoy this morning's speakers.
For information on how B&R can support your company's packaging automation-related global requirements, contact John Kowal or Tom Jensen.