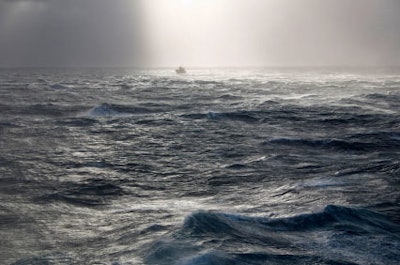 NJM/CLI Packaging Systems was importing a liquid filling machine from the U.K. for one of their most important customers. Already late, the unit—valued at $70K—was finally loaded on a container for sea transport to Montreal, where it was desperately needed for a new pharmaceutical product launch.

With equipment finally on the way, NJM president Michel Lapierre was probably happy enough to walk on air. But what happened next gave him--I think you'll agree--the mother of all sinking feelings.

As he tells it, "The ship hit a storm at sea, and the container fell to the bottom of the ocean, along with about 20 other containers that were on the deck."

How would you like to call a customer with news like that? There's really no way to sugarcoat the fact that the only way to complete your product launch is to move production to the Titanic.

NJM is fortunate to have Mr. Lapierre at the helm. When the customer first heard the news, they became hysterical, and then thought it was a joke. But once reality set in and the customer realized the situation was beyond human control, they ordered a replacement machine, and all was well.

Every company has someone who likes to tell big fish stories. At NJM, they talk about the big liquid filling machine that got away.

About NJM/CLI

NJM/CLI designs, manufactures, and supplies a complete range of packaging equipment, offering customers single-source responsibility, turnkey line integration services, full validation support, and after-sales service and support. This benefits customers packaging pharmaceutical/nutraceutical/vitamin and personal care products. By manufacturing machines and supplying quality equipment from other leading manufacturers, NJM/CLI provides integrated lines and RFID tagging solutions.

About Brad Shorr

Brad Shorr is an online marketing specialist and writer. He offers a complete range of marketing services for the packaging industry .


Companies in this article