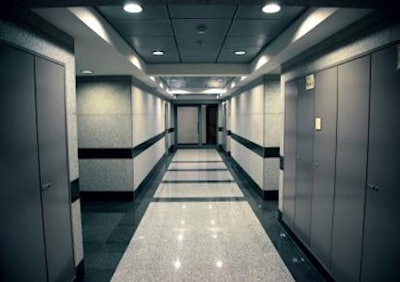 When I started in packaging sales, I was assigned a large territory in central Iowa. It was hard work. Here I was, fresh out of college, trying to sell stretch film and box-sealing tape to veteran buyers who'd had the same sources of supply for years, if not decades.

After a lot of blood, sweat, and tears, I built up a modest base of customers – including one very large company in the town of Newton. It was a nationally known and highly respected firm that I was quite proud to have won over.

One day, about nine months in, word came down that the VP of Sales was coming from Chicago to work with me in the field. Oh boy. I cobbled a day together and prayed it would impress him. The pivotal stop – lunch with my showcase account in Newton.

The big day arrived. I was so nervous I cut myself shaving, giving the tip of my nose a major-league whack. It wouldn't stop bleeding, so I stuck a piece of tissue on it. That must have impressed the boss when I met him at his motel.

Our morning calls were a disaster – including a couple of cancels and a botched stretch film demonstration, as I recall. Fortunately, I still had the Newton card to play, when I would show the boss that I owned the biggest account in town.

We walked into the lobby, and I confidently announced our arrival, or as confidently as one can with tissue hanging from his nose. "We're here to see -----!"

The receptionist said, "He's ready for you, Mr. Shorr. Would you like me to walk you to his office?"

I waved her off. "No, no. I've been here many times. Thanks anyway." So I led the boss down the stairwell, and we headed down a long and winding corridor. Eventually the corridor just kind of ended, and my boss gave me a funny look, which seemed to say, "Who hired this clown?" I saw a door and said, "Don't worry – it's this way."


I opened the door, and the next thing you know, the boss and I were standing in the boiler room. Yep, the boiler room. We stood there in silence, with me wishing I had gone to graduate school.

Finally my boss said, "I'm guessing this isn't the right way."

My brilliant response? "Hey – I think my nose stopped bleeding."

The day improved from there, a feat not too difficult to pull off considering it could hardly have gotten worse. Best of all, at the end of the day … I still had a job. It was shortly thereafter I decided to grow a moustache and always get directions.
Brad Shorr is a writer, blogger, and online marketing specialist with an extensive background in the packaging industry. He works with B2B firms to strengthen their Web presence and tap into the power of business blogs and social media. He also welcomes hearing of your own packaging misadventures for future columns. Learn more at the Word Sell, Inc. Web site.