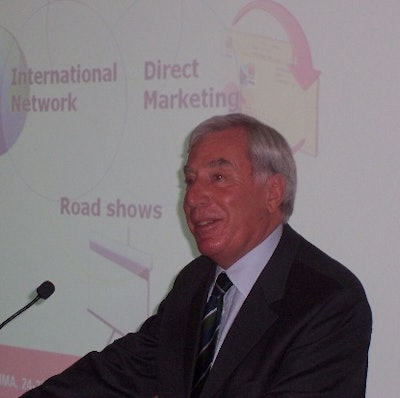 Noting that some 850 million people around the world are starving,
Ipack-Ima
(www.ipackima.it/en/) CEO Guido Corbella told journalists at an April 25 press briefing during
interpack
(www.interpack.com) in Dusseldorf, Germany, that an international summit on the subject of world hunger would be part of Ipack-Ima 2009. Supported by the United Nations and the Italian Ministry for Agricultural, Environmental and Food Policies, the proposed summit is aimed at identifying contributions that food production and packaging systems can make in a global effort to address the problem of world hunger.
Corbella also presented updated attendance and exhibitor figures for Ipack-Ima, which will be held March 24-28 at Italy's Fiera Milano in Milan. Noting that 60% of available exhibit space is already sold, Corbella said that 23% of the exhibitors are new. "This is always a good sign for a show," said Corbella.
Corbella observed that the continued growth of contract packaging is among the trends that Ipack-Ima's sponsors would like the event to address. "According to Rodney Steele of the British Contract Manufacturers and Packers Association, 75 percent of items sold in Europe are not packaged by the brand owner," said Corbella.
Four major shows will all be running concurrently at the Fiera Milano, said Corbella. Alongside of Ipack-Ima, there will be Grafitalia, Converflex, and Plast. Total number of exhibitors is expected to be 4,000, and attendance for all four shows is pegged at 150,000.
Meanwhile, visitors at interpack in the first two days of the April 24-30 event numbered 56,000, a new high for the exhibition's first two days.
Companies in this article