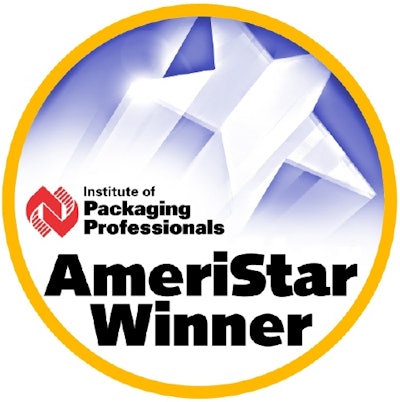 The Institute of Packaging Professionals' (IoPP) has announced its call for entries for the 2007 AmeriStar packaging awards competition.
Any package or family of packages produced after January 1, 2006, and not previously entered into an AmeriStar competition, are eligible for submission into the 2007 program. Deadline for entering packages is October 26, 2007. Judging is scheduled for December 7, 2007 at IoPP Headquarters located in Naperville, IL.
Display and formal announcement of the AmeriStar award winners will take place at the Packaging Summit Expo and Conference, scheduled for May 13-15, 2008 at the Donald E. Stephens Convention Center in Rosemont, Illinois.
Three special AmeriStar awards include:
THE BEST OF SHOW AWARD, sponsored by Lansmont Corporation
THE 3M INTEGRITY AWARD, sponsored by 3M
THE PEOPLE'S CHOICE AWARD, chosen and announced during the Packaging Summit Expo and Conference in 2008
Top winners for the 2006 competition were:
Best of Show - Bic Mark-It™ Reusable Bi-Fold Clamshell, SCA Consumer Packaging
3M Integrity Award – Aveda Earth Month Limited Edition Candle, The Estee Lauder Company
The People's Choice Award – Kodak NexPress 2400 Digital Printer, Nova Chemicals
AmeriStar details, entry fees and form, are available on the
IoPP Web site
.
You may also request information by contacting Carole Schiller, IoPP Honors & Awards Manager, at 630-696-4006, or e-mail cschiller@iopp.org.
Companies in this article