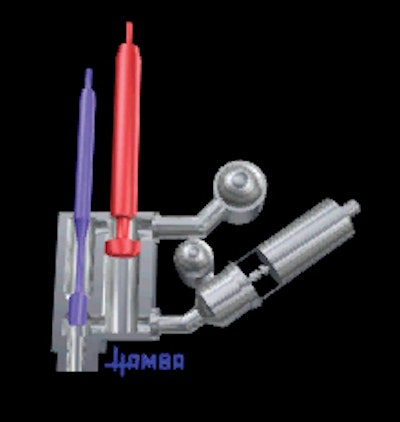 "When the fill valve is in the lower position with the outlet nozzle closed, product is directed under the piston. When the piston reaches its upper position, the correct amount of product is metered. When the fill valve raises the flow of product under the piston, it is stopped and the outlet is opened to the container. Product is forced out of the nozzle from the pressure at the top of the piston."
Hard to visualize? You aren't alone. That's why Gary Pyles, president of SIG Hamba USA, decided to offer machine animations on the Hamba USA Web site, www.hambausa.com.
"Since most of the filling operation happens inside the machine, there is almost no way for an individual to see how it operates. It is almost impossible to verbally describe exactly what is happening," says Pyles. "It can be illustrated in multiple pictures or drawings, but the animations show what the motion is and the timing between the activities happening. With timing, it is easy to describe the product flow."
Hamba offers animations for two fillers, the differential piston filler and the piston valve filler (KVD-2), which is designed to fill liquid products with low viscosity to thicker products that do not have the characteristics of a paste.
Find the animations by going to www.hambausa.com and clicking on "product line" and then "product animation." The animations are viewable in two formats: Liquid Motion and AVI. Liquid Motion animations were created with Microsoft software and require Internet Explorer 4.0 or higher. AVI files are standard animations and can run on most Internet browsers. According to Pyles, the AVI animations are more realistic because they were created with a three-dimentional modeling program called TrueSpace.
"Our goal is to make it easy for a customer or operator to understand what exactly is happening inside the fillers," says Pyles. "If our customers have a question, we use the animations to help describe the equipment easier."